Thursday, February 15, 2018
The staged reading explores the real-life fight of two African American Iowans to get their sons educated in Keokuk public schools.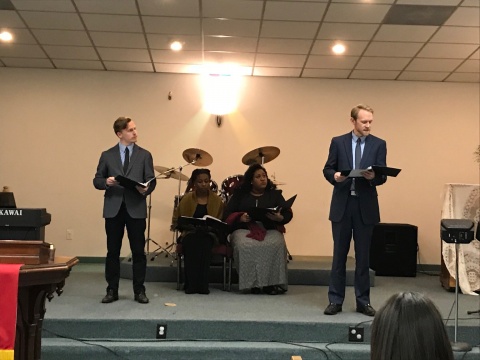 Two Iowa mothers—Charlotta Smith, a former slave, and Mary Jane Dove, the wife of a respected minister—were determined in 1874 to end the unconstitutional exclusion of black children from Keokuk, Iowa's public schools. They took to the courts to challenge school segregation in Keokuk. Their successful efforts, which brought them to the Iowa Supreme Court, are depicted in Cross-Examined, a play written by University of Iowa MFA student and playwright, Margot Connolly. The work is largely based on historical research by Leslie A. Schwalm, Professor of History and Gender, Women's, and Sexuality Studies at the University of Iowa. The free staged readings in Keokuk and Cedar Rapids are sponsored by Arts Share at the University of Iowa Office of Outreach & Engagement. Cross-Examined is directed by Tempestt Farrar, UI MFA student, who acts in the production along with other UI Arts Share students. 
"The play covers an interesting time in Iowa history," Connolly said. "I hope it sparks interest in audiences to further explore the subject of Iowa post-Emancipation." 
Cross-Examined personalizes the national struggle to expand the meaning of freedom after the Civil War by dramatizing Smith and Dove's experiences. Northern states were slow to extend full political and civil rights to black citizens, even after reconstruction-era constitutional amendments and federal legislation guaranteed such rights. 
For this project, Arts Share teamed up with the UI History Department to "bring history alive" by turning research into a theatrical performance piece. Arts Share artists have been performing the work at schools and communities throughout the state. Next, Arts Share will work with Jim Giblin's "Seminar in Oral Histories" class during the 2018 spring semester. UI graduate students will collect stories from local Sudanese immigrants about their personal experiences, and Tameka Conley, a poet, playwright and MFA student at the UI, will develop the stories into a staged reading.
Cross-Examined stage reading to celebrate Black History Month
7 pm, Feb. 15, 2018
Free and open to the public
McAuley Theatre
Mount Mercy University
1330 Elmhurst Drive NE, Cedar Rapids, Iowa 52402
Cross-Examined stage reading to celebrate Black History Month
6:30 p.m., Feb. 22, 2018
Free and open to the public
African American Museum
55 12 Ave SE, Cedar Rapids, Iowa 52401