Community-Engaged Courses provide opportunities for students to apply the technical skills and knowledge learned throughout their academic career to work with community partners to solve the economic, environmental, social-cultural, and public health challenges facing today's world.
"92% of students, who took a Community Engaged Course at Iowa, agree that their project helped them better understand the role of a professional in their field."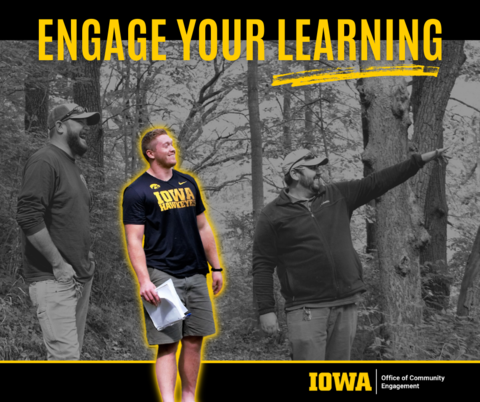 These courses deepen students' understanding of their academic studies and serve as a professional development opportunity. Community engagement connects students with professionals in their field, providing them with resume-boosting experiences while building critical skillsets like communication and project management that employers are looking for in today's job market.  
The Office of Community Engagement facilitates community-engaged learning for students across campus primarily through workshops and training and by supporting numerous campus and community partners working with engaged students.
Campus resources for engaged students
Students are encouraged to incorporate their community-engaged learning experiences into their resumes. Employers are looking for students with experience working in their field of study, and community-engaged learning experiences, internships, and volunteer service will make your resume stand out. Contact your academic advisor or the Pomerantz Career Center website for information on incorporating community engagement into your resume.
For students interested in volunteer opportunities, community service, or ways to connect with student organizations, please visit the Office of Leadership, Service, and Civic Engagement, housed within the Office of the Dean of Students in the Division of Student Life. Programming helps students develop lifelong leadership skills, offers incredible experiential learning, and provides civic engagement opportunities both on and off campus.
Students are encouraged to visit the Office of Community Engagement's resources page for more information about upcoming training and workshops around community engagement.