ISPA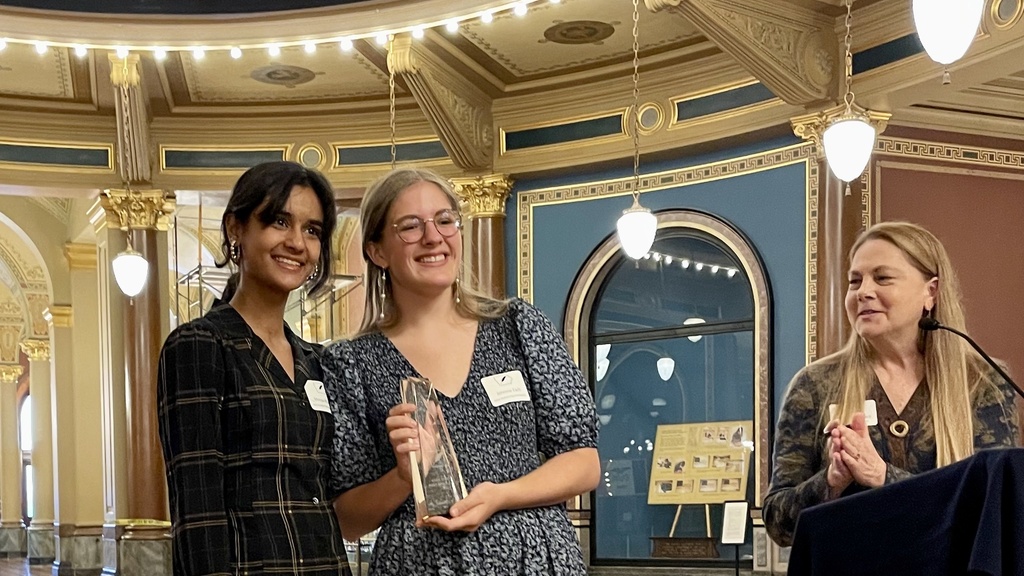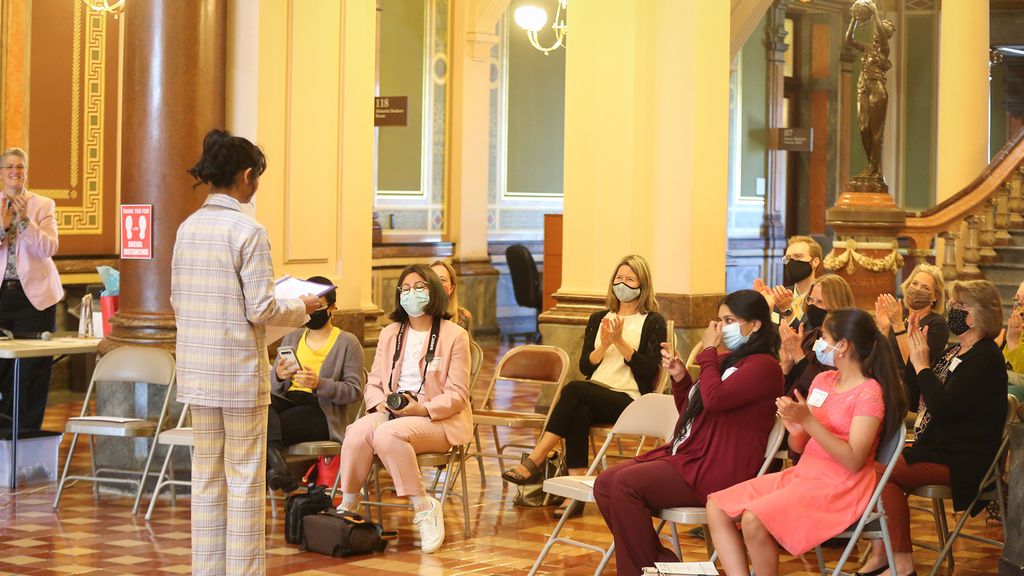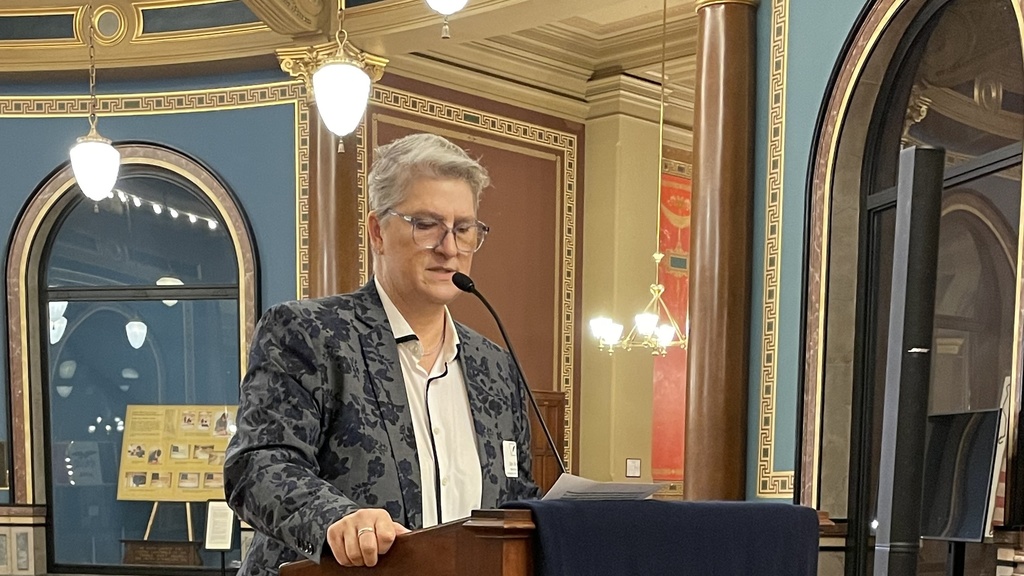 The Office of Community Engagement is proud to support Iowa's local arts and writing initiatives through partnership opportunities with Arts Share. The Iowa Student Poet Ambassador program is one of many creative projects that Arts Share participates in throughout the year, helping connect students from local communities with opportunities to develop their skills and expand their impact through personal expression.
The Iowa Student Poet Ambassador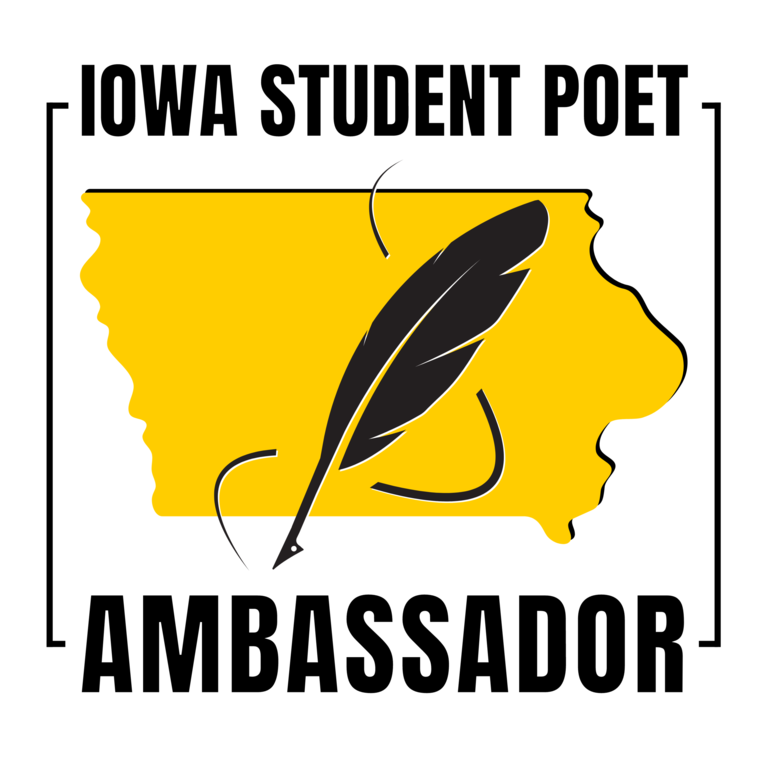 The Iowa Student Poet Ambassador (ISPA) program recognizes an outstanding, young writer and celebrates poetry and the literary arts in Iowa. Each year, ambassadors are chosen from a select group of students who participated in either the Scholastic Art & Writing Awards, Iowa Poetry Association, or Iowa City Poetry.
Through ISPA, Iowa youth will pursue their talents in poetry writing and the enjoyment of and engagement with poetry in our state will be enhanced. The Ambassador is chosen each year from a highly selective group of 11th graders and is inaugurated in the Law Library of the State Capitol in April as part of National Poetry Month. 
The Iowa Student Poet Ambassador, an unpaid honor, is the highest award given to a young writer in the state. The title is designed to recognize and celebrate a talented student poet, who in turn, will validate and support the voices of young people in Iowa, and raise awareness of the literary arts.
The Iowa Student Poet Ambassador program is coordinated by the University of Iowa's Office of Community Engagement and is a collaboration of the following partner organizations:
Arts Share

Belin-Blank Center and the Scholastic Art & Writing Awards

Humanities Iowa

Iowa Arts Council

Iowa City Poetry

Iowa City UNESCO City of Literature

Iowa Library Association

Iowa Poet Laureate Program

Iowa Poetry Association

State Library of Iowa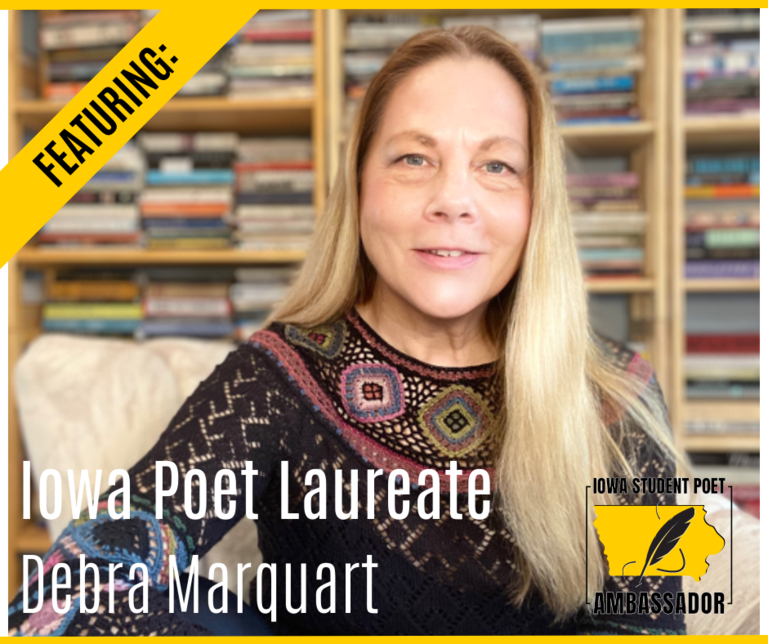 Debra Marquart is a Distinguished Professor of Liberal Arts & Sciences at Iowa State University. She teaches in the MFA Program in Creative Writing and Environment and in the Stonecoast Low-Residency MFA Program at the University of Southern Maine. Marquart is Iowa's Poet Laureate and the Senior Editor of Flyway: Journal of Writing & Environment.  The author of six books, Marquart has two books forthcoming in 2021: Gratitude with Dogs Under Stars: New & Collected Poems and The Night We Landed on the Moon: Essays Between Exile & Belonging.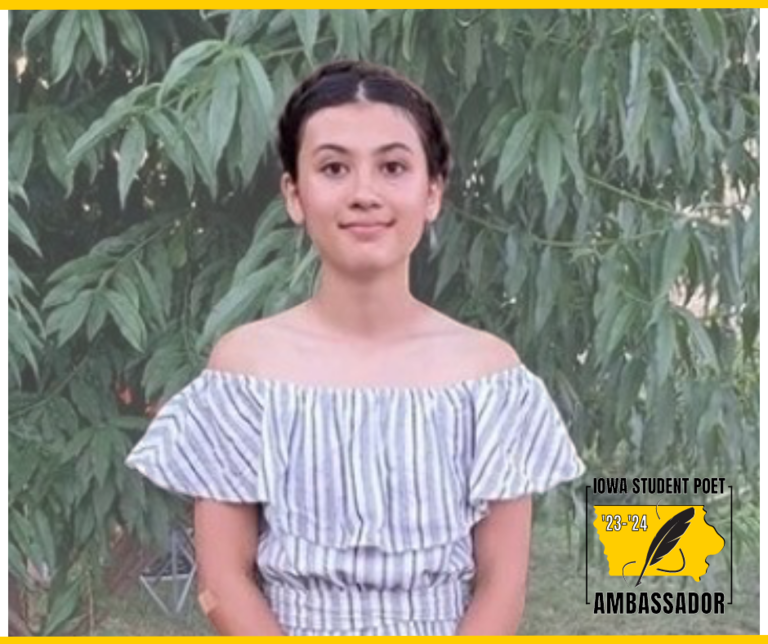 Lola Nakashima-Brooke is a junior at Central High School in Davenport, IA. In 2021 and 2022 she was an intern in the Midwest Writing Center's Young Emerging Writers Program and has published in the Atlas literary magazine as well as her school literary magazine, Indigo Ink.
When not writing or reading, she's either playing piano, trombone, or marching baritone. A veteran of marching band and show choir, she enjoys listening to music, eating soup, and collecting photos of romance-era paintings. She plans to attend college for teaching and creative writing.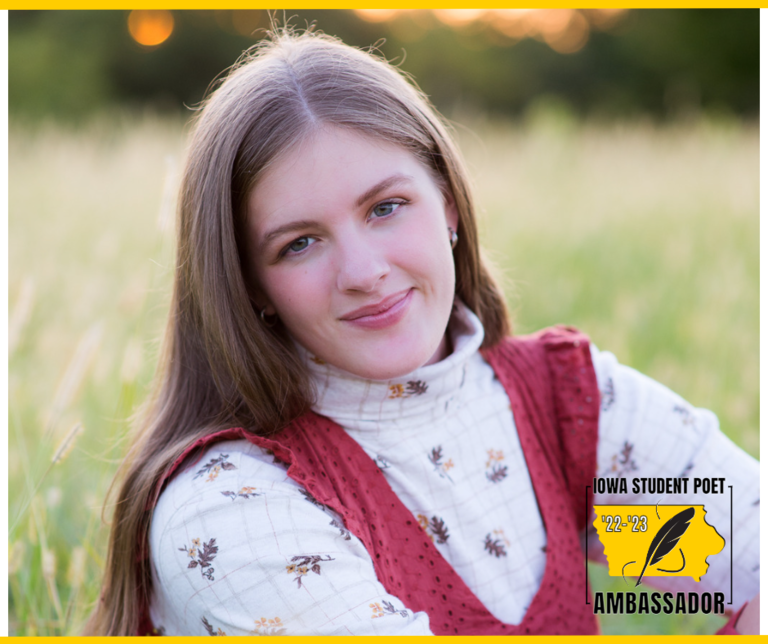 Johnnie Each is a senior at Prairie High School in Cedar Rapids, IA. In addition to her passion for writing poetry, she enjoys reading old books, watching movies, having philosophical discussions and spending time with her friends. She describes herself as someone who likes listening to Christmas music in September and who laughs unabashedly at her own jokes. She loves music with poetic lyrics, Indian food, her church and her family. She'll be attending the University of Iowa in the fall to study Journalism and Creative Writing. 
"Being the ISPA has meant so much to me; it showed me that words have a beautiful power and poetry even more so. It has inspired me to keep writing, because I know that my work reaches those around me." 
Shreya Khullar is a writer from Iowa City. Her work has been published in The Rising Phoenix Press, Pigeon Pages, The Wildness Journal, and is forthcoming in GASHER Journal. She served as the Inaugural Iowa Student Poet Ambassador for the 2021-2022 school year and is a student at Columbia University where she is a staff writer for the Blue and White and a roundtable writer for the Columbia Undergraduate Law Review. 
"When I first became the ISPA it was a completely new program, shaping and molding itself while simultaneously being one of the most formative experiences of my high school career. As it grew with me, I was able to speak with young writers, librarians, and other literary enthusiasts, without whom I would have never gained the confidence to share my work or pursue literature outside of the closed walls of my bedroom. It has shown me the power of language and moreso, the power of voice to enact positive change. I am forever grateful for this program and its mission to spread the beauty and importance of poetry!"
For more information about ISPA, please reach out to Community Engagement Manager Jan Warren at jan-warren@uiowa.edu.