The Office of Community Engagement supports University of Iowa faculty and instructional staff through the Faculty Engagement Corps (FEC). The FEC provides instructors interested in community engagement with training, networking, and project development to elevate their teaching and increase their impact in communities. The 2023 FEC is co-sponsored by the Obermann Center, helping to bring expert speakers and presenters on a variety of topics central to community engagement at Iowa.
Announcing the Faculty Engagement Corps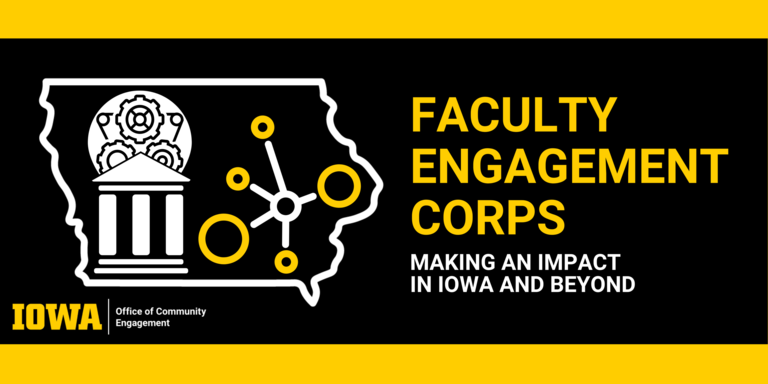 In colleges and departments across the University of Iowa, faculty and instructors are working to advance community engagement experiences that connect their students to community partners to create opportunities for elevated learning outcomes that lead to impact in the lives of Iowans throughout the state and beyond. The Office of Community Engagement (OCE) provides resources, best practices, and technical assistance to ensure community-engaged teaching experiences run smoothly, which increases the benefits of community-engaged courses while helping navigate structural challenges, logistical issues, and potential partnership pitfalls.
OCE developed the Faculty Engagement Corps (FEC) to provide resources and support in an environment where faculty and instructors interested in being champions for community-engaged learning could develop their skills while connecting to a community of like-minded professionals across campus. Together, the FEC will foster spirit and passion for impact in a holistic environment that encourages feedback and support to guide and drive educators to uplift students through teaching experiences that engage with community partners outside the university.
Information on community-engaged conferences, publishing, and professional development workshops further enhance opportunities available to FEC members.
​
Inspiring Community Impact through Learning Experiences