The Office of Community Engagement supports University of Iowa faculty and instructional staff through the Faculty Engagement Corps (FEC). The FEC provides instructors interested in community engagement with training, networking, and project development to elevate their teaching and increase their impact in communities.
Announcing the Faculty Engagement Corps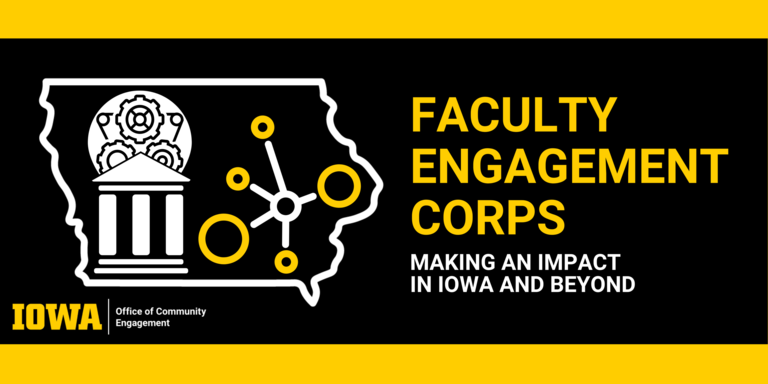 In colleges and departments across the University of Iowa, faculty and instructors are working to advance community engagement experiences that connect their students to community partners to create opportunities for elevated learning outcomes that lead to impact in the lives of Iowans throughout the state and beyond. The Office of Community Engagement (OCE) provides resources, best practices, and technical assistance to ensure community-engaged teaching experiences run smoothly, which increases the benefits of community-engaged courses while helping navigate structural challenges, logistical issues, and potential partnership pitfalls.
OCE developed the Faculty Engagement Corps (FEC) to provide resources and support in an environment where faculty and instructors interested in being champions for community-engaged learning could develop their skills while connecting to a community of like-minded professionals across campus. Together, the FEC will foster spirit and passion for impact in a holistic environment that encourages feedback and support to guide and drive educators to uplift students through teaching experiences that engage with community partners outside the university.
Information on community-engaged conferences, publishing, and professional development workshops further enhance opportunities available to FEC members.
​
Upcoming Orientation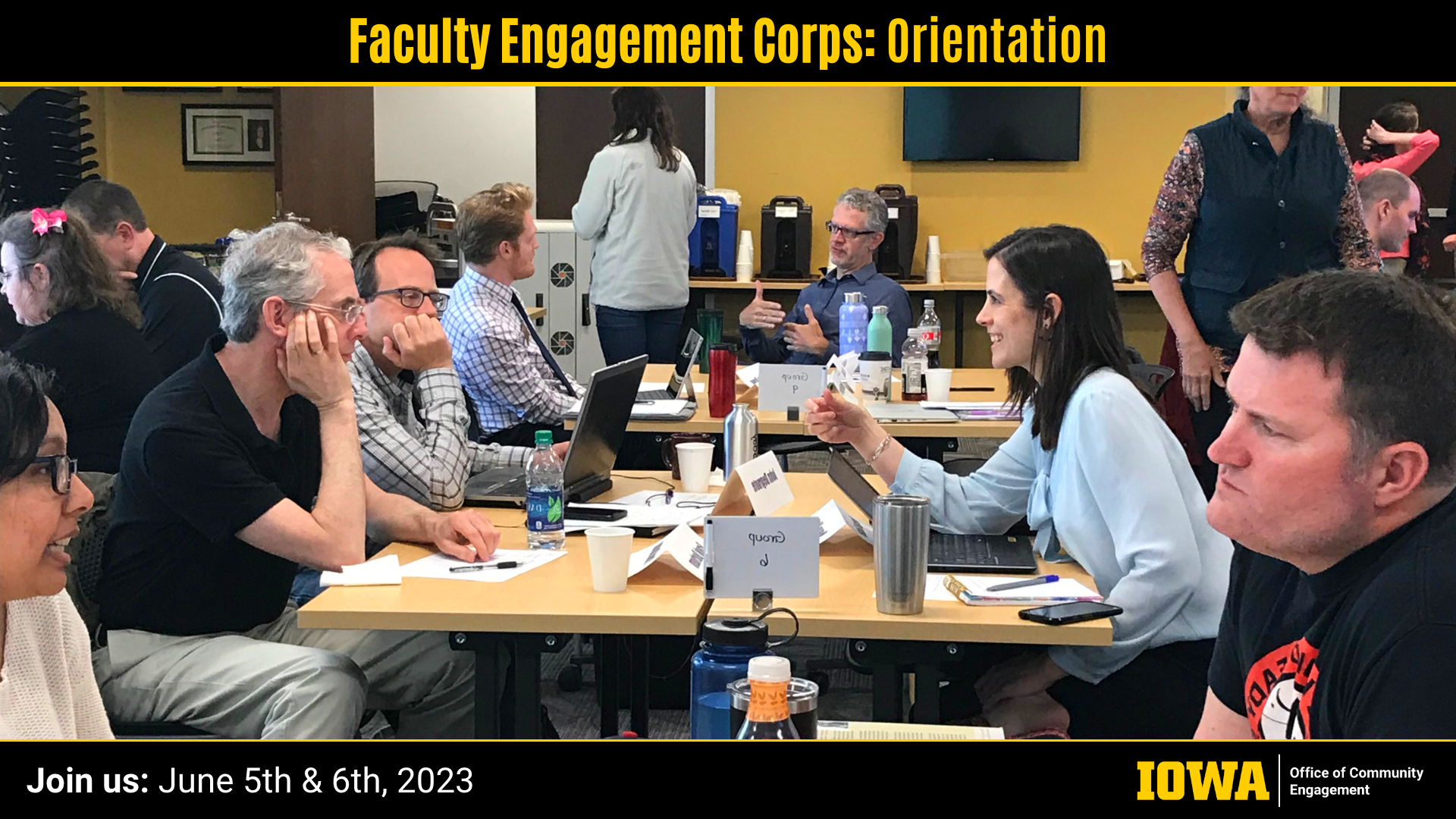 FEC Orientation June 5th & 6th - The FEC Orientation provides in-depth training on the components and best practices of community-engaged teaching and learning and walks instructors through the entire process of creating or re-designing a Community Engaged Course (CEC). Faculty and instructors interested in incorporating community-engaged components into their classrooms are welcome to come, even if they have no previous experience or are curious about the impact and outcomes of these valuable student experiences. 
Learn from seasoned instructors and community engagement advocates from across the University of Iowa as community partners share their experiences working with students in the field and creating value for their organizations and the people they serve. Launching a Community Engaged Course (CEC) may seem daunting, but the tools and support available from the Office of Community Engagement streamline the process so that instructors and faculty can focus on designing compelling and educational experiences.
Inspiring Community Impact through Learning Experiences
Want to learn more? Contact Jan Warren, community engagement manager, at jan-warren@uiowa.edu.