With its top-ranked arts programs, the University of Iowa attracts some of the best students and faculty in the country.  The Office of Community Engagement is committed to working with faculty and students to advance their arts practices and sharing the UI's arts resources with the rest of the state.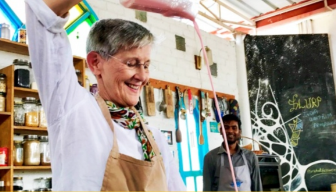 Artists from the Division of Performing Arts, Writers' Workshop and International Writing Program, the School of Art & Art History, and more, are available for workshops, performances, and public art commissions in communities throughout Iowa.  
Arts Share coordinates 300+ events per year, including workshops and performances, in communities across Iowa. From scheduling ensemble tours such as UI Dance Company and the Iowa Percussion Ensemble, to readings by writers from the world-renowned Writers' Workshop, the Arts Share program is committed to filling gaps in arts programming and utilizing the arts to enhance quality of life.
To learn more about opportunities to bring arts to your community, please contact Arts Share at artshare@uiowa.edu, or contact the Arts Share director at leslie-finer@uiowa.edu.
The Grant Wood Art Colony (GWAC) and Arts Share work collaboratively on arts projects and mentorship programs.
How does Arts Share Work?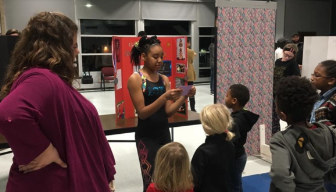 Arts Share offers schools and communities around the state a variety of arts experiences such as interactive performances, workshops, readings, and master classes.
Events take place in K-12 schools, libraries, museums, hospitals, community colleges, and performance venues. Online programs are also now available. Our artist roster is made up of students and faculty from programs across campus, including: Division of Performing Arts (music, dance, theatre), Writers' Workshop, School of Art & Art History, International Writing Program, and Cinematic Arts. In addition to individual artists, we have many amazing ensembles that are available for performances.
Contact our office and we will work to tailor programming to meet your needs. We will work within your budget when possible.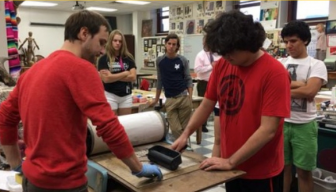 Schools and organizations can contact Arts Share to make an inquiry or request an artist. 
Our staff will assist you in selecting an artist or ensemble. Workshops, residencies, and performances are tailored to meet the needs of each school or organization. 
Arts Share artists are a perfect way to enhance your arts programming, tie into curriculum, enliven the classroom, and expose students and the community at large to a wide variety of arts.
If you are interested in bringing an Arts Share artist, ensemble, or group to your community call the Arts Share office at 319-335-1618, or email Arts Share at artshare@uiowa.edu.
A Brief History of Jazz
Learn about the history of jazz with students in the University of Iowa jazz department! Musicians in the UI jazz combo, PENTrio plus Cole demonstrate different styles and discuss the roles of their instruments.
Black History Month (February)
Voxman Music Building Virtual Tour
Welcome to the Voxman School of Music! Our student ambassador will show you around the building and explain how music students of all backgrounds and interests can enjoy the new facility.  The video includes excerpts from performances by the Iowa Percussion Ensemble and the YANA String Quartet, as well as a performance on the amazing Klais organ.
How Raccoon Got his Stripes
This is an Indigenous Storytelling tale that has been passed down through centuries of oral tradition, in 

Native America

 from the Wasco nation.  Adapted 

by Brent Florendo 

into a children's theatre play, it is performed by Dakari Harleston.  There are traditional teachings and universal truths presented in the story of How Raccoon Got His Stripes.  
Native American Heritage Month (November)
Face Truth/Face Self: Creative Arts in Response to Social Injustice
Centered on noteworthy incidents where Black lives were unjustly taken, student and local professional performers from across the spectrum of the creative arts internalize and interpret these atrocities into performances that reflect and interpret the angst of these atrocities in a way that only the arts are capable of doing.
Black History Month (February)
Meet the Orchestra
Come meet the orchestra and learn about the strings, winds, brass, and percussion in this brief introduction to the Orchestra!
Performance Etiquette
Learn about the do's and don'ts of attending a performance with students in the University of Iowa theatre department! Actors in the UI theatre building demonstrate different etiquette techniques and discuss the role the audience has when attending a performance.