Labor Center at the University of Iowa tackles workers' rights, post-pandemic employment challenges, and the future of clean energy in Iowa through community engagement
The University of Iowa Labor Center is the only unit within the state university system exclusively focused on research, education, and support of working-class Iowans. It represents a proud tradition of longstanding engagement with communities in 99 counties across the state.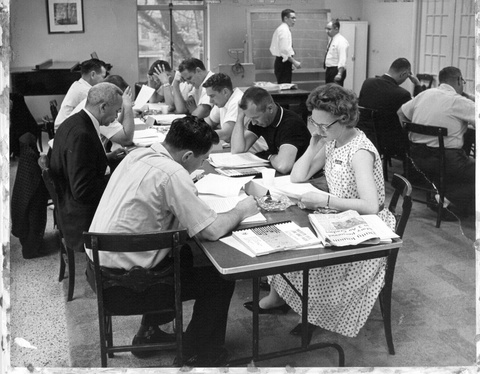 "It's important to us to make education accessible," said Robin Clark-Bennett, educator and Director of the University of Iowa Labor Center. "We do that through a lot of hypothetical and real-life scenarios. Laws don't mean anything if they cannot be understood and implemented by the people they affect."
The Labor Center responds to requests from community organizations, individuals, unions, and churches throughout the year. Classes are scheduled far enough in advance to allow time to dig into the legal research, policy, and regulatory research required to prepare a course tailored to precisely address the issues people face. 
These community-engaged courses leverage PowerPoint presentations, educational videos, roleplays, skits, and interactive group exercises so that attendees can learn how to address questions they have faced in real-life and learn how to apply the laws and policies that exist to those scenarios.
"We work directly with workers and their community organizations," Clark-Bennett said. "We are teaching about rights that employers have a lot of access to through workshops and training. Often the information doesn't trickle down, so we focus on addressing the gap by ensuring that all that information is accessible to workers in their languages and preferred formats so they can relate." 
Initially founded as the 'Institute of Labor-Management Relations,' the Labor Center was created around relationships built across the state with Iowa workers and has been sustained for over seventy years through community relationships. It also bridges working-class Iowans, Iowa communities - large and small - and the University.
"We work with interdisciplinary faculty across initiatives to make the knowledge and resources of the University accessible to the issues that workers are facing," Clark-Bennett said. "We also make community-engaged learning opportunities available to students that connect with their education and research."
COMMUNITY ENGAGEMENT HAS ALWAYS BEEN ESSENTIAL TO THE LABOR CENTER'S WORK
Several law students interned with the Labor Center in 2022 through the Community Law and Empowerment Project. At the same time, research assistants published a report comparing workers' compensation in Iowa to other states and how issues raised during the pandemic played out in those systems. They then presented that information to a state conference of workers' compensation experts. 
Graduate students working through the Obermann Center assisted with projects related to the Labor Oral History Project - one of the largest of its kind in the world, with over 1500 interviews with Iowa workers dating back to the late 1800s.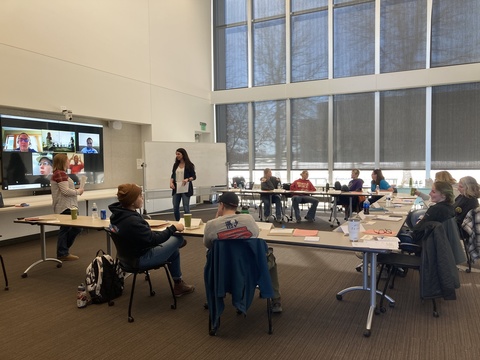 Another worked on the Iowa Women and Trades project, interviewing women to find quotes and compile information to help educate women in construction trades across the state.
The Labor Center conducts around ten classes and conferences on campus and about 100 courses across Iowa each year, educating communities on employment law and associated rights. Times and locations are accessible for workers, covering topics communities have identified as priority workforce issues, reaching about 2,500 Iowa workers annually. "First and foremost, we respond to the needs of Iowans," Clark-Bennett said. 
The Labor Center maintains relationships across the University to determine who is working on research that might be relevant to Iowa workers' priorities.
"Currently, we are working with faculty focused on understanding working-class opinions around the pandemic and vaccinations and how those issues play out in workplaces across the state," Clark-Bennett said. "We are collaborating on survey distribution to diverse sectors and communities." 
ADDRESSING PROBLEMS EXPOSED BY COVID-19
The 2020 pandemic disproportionately affected workplaces prone to precarious schedules and periods of unemployment. As a result, many Iowans found themselves subjected to unexpected and sustained unemployment. 
The Labor Center made resources accessible to workers facing longstanding pressures in industries across Iowa that have intensified following the pandemic. Areas of concern include workplace health and safety and access to healthcare.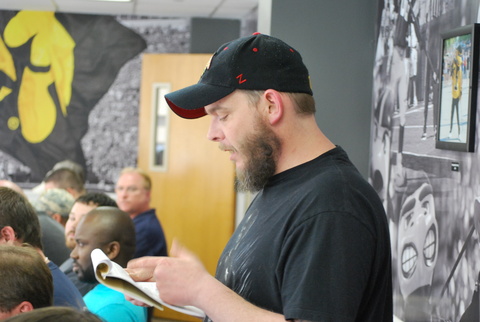 "The pandemic has been devastating in many ways and brought intense pressures, but it has also placed in sharp relief some of the longstanding issues that can't simply return to the way they were," Clark-Bennett said. "I think there is incredible momentum and opportunity right now to reimagine how to rebuild in ways that address those issues while placing communities on a more robust and equitable trajectory."
Other industries prone to understaffing found themselves working soaring overtime while grappling with childcare and paid leave concerns. Issues of equity and access to occupations also intensified. 
"We have faced skyrocketing demand for classes in the last couple of years and reliable, accessible information about workplace rights and policies concerning all those issues," Clark-Bennett said. "We taught over 100 courses in the previous fiscal year alone, from Sioux City to Lee County, spanning the state." 
Classes included educating meatpacking workers about their rights and equipping them to better understand and implement safe and favorable working conditions in their workplaces. Educators shared information about family and medical leave to help workers grapple with family members exposed to COVID-19, including themselves. 
This past fall, the Labor Center taught four large classes in Denison and Sioux City with meatpacking workers. 
"In the wake of the pandemic, it's more clear than ever that workplace health is community health, and the well-being of workers influences the well-being of the community," Clark-Bennett said. "Work needs to be done at every level to improve the quality of workers' lives in important industries in our state, which means education and training for workers and their organizations, as well as initiatives with e and regulatory agencies." 
DIVERSITY AND EQUITY IN A CHANGING WORKFORCE
The Labor Center is working on several projects with labor and community partners to address wage payment rights, equity, and historical occupational segregation in construction. 
"Those are areas of focus that we are going to deepen," Clark-Bennett said. "For example, the way construction jobs are structured leaves workers prone to wage theft and misclassification." we are part of a grant project with the Center for Worker Justice and Common Good Iowa to improve public education and research about this topic.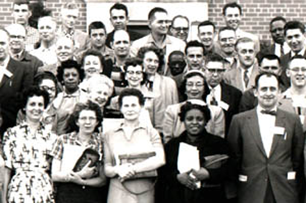 The Labor Center also collaborates with unions, apprenticeship programs, federal and state agencies, and employers to promote equity and connect more Iowans from underrepresented communities with Registered Apprenticeship training opportunities in skilled construction.  
"Iowa's construction industry faces an acute need for skilled tradespeople," Clark-Bennett said. "We have launched a pre-apprenticeship program with area building trades leaders to help build  new pathways for workers to access these family-sustaining careers." Pre-apprenticeship programs prepare women, people of color, young adults, and people with disabilities to access and succeed in construction apprenticeships.
As part of this work, the Labor Center hosts monthly meetings and an annual leadership conference for the Iowa Women in Trades Network – peer support and mentoring organization to promote success among Iowa tradeswomen. The Labor Center has also taught classes for industry stakeholders about combatting racial and gender discrimination while helping to find ways to empower workers to intervene and create respectful job sites.
CLIMATE CHANGE AND THE FUTURE OF LABOR
In 2022, the Labor Center held the state of Iowa's first-ever labor and climate conference, bringing together 80 labor and environmental leaders, students, and faculty to discuss areas in which labor and climate interests aligned. 
"There's been lots of publicity around areas where those movements and communities find friction and conflict," Clark-Bennett said. "But there are many more where the vast majority of their values are closely aligned."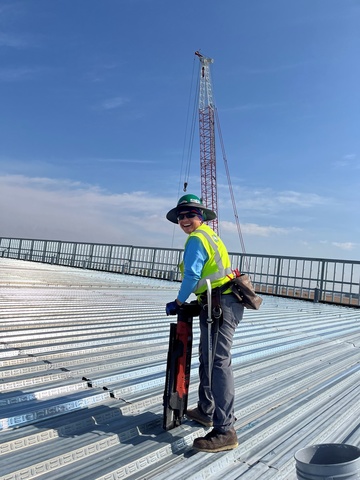 The conference featured national keynote speakers from United Auto Workers, BlueGreen Alliance, and leaders of community initiatives out of New Orleans. National speakers and local experts from across the state spoke in plenary sessions, panels, and breakout workshops.
"There was a lot of excitement around the conference," Clark-Bennett said. "The energy was fantastic."
The conference was co-sponsored by The Hubbell Environmental Law Initiative (HELI), and labor and environmental organizations. It was the product of a year of work in which the Labor Center convened bi-weekly discussions among labor and environmental leaders to increase mutual understanding, communicate respective values, and identify areas in which their work intersected.
Clark-Bennett said now is a critical moment in the debate around the future of work. Changes in how work is structured leave workers unprotected by employment laws created when the worker-and-employer relationship was more straightforward than it is today. 
"Increasingly, workers are subcontractors, temps, and independent contractors whose worksites are scattered, working from home and across state boundaries in less formal relationships," Clark-Bennett said. "Traditional labor and employment laws don't adequately speak to or cover that new reality."
As those discussions happen at the federal and state level, the Labor Center will continue to work on keeping Iowans informed while helping to ensure that their experiences are reaching scholars and decision-makers through community engagement.
"Serving as a bridge between workers and the University as our economy evolves will continue to be a crucial part of our work in the future," Clark-Bennett said.
Story by James Dykeman