Nonprofit Leadership and Philanthropy Certificate impacts Iowa communities through community engagement
Program connects students with area nonprofits before and after graduation
The Nonprofit Leadership and Philanthropy (NLP) Certificate program engages students with community partners from the beginning of their academic career through broad access to Community Engaged Courses (CECs). The program is committed to producing tomorrow's nonprofit leaders who will carry these skills back into communities to continue having an impact in organizations assisting Iowans across the state.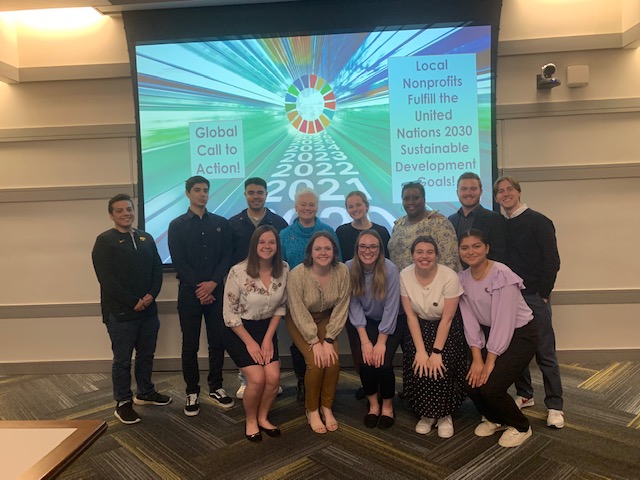 "It's about preparing students to enter the workforce with a career in the nonprofit sector or impact communities following graduation as volunteers, board members, or even starting their own nonprofit," said Jenifer Vick, associate professor of instruction, and co-director of the NLP Certificate. "We are preparing students to go out into the world and impact the nonprofit sector positively."
The NLP Certificate was born out of a merger between the Nonprofit Management Certificate in the Tippie College of Business and the Fundraising and Philanthropy Communications Certificate, housed in the School of Journalism and Mass Communications. 
In 2009, a generous gift from Kevin and Donna Gruneich through the University of Iowa Foundation created the Philanthropic Studies Fund. That gift was instrumental in leading the School of Journalism and Mass Communication to develop the Certificate in Fundraising and Philanthropy Communication, now the NLP Certificate.
The Philanthropic Studies Fund has grown from the Gruneichs' contribution and other donors, including Dale and Linda Baker. Their generosity supports classroom activities and professional opportunities for students, faculty, and the nonprofit community.
"The Gruneich's contribution to the certificate exemplifies their commitment to providing students with high-quality education in a field that generates future philanthropists and leaders in the nonprofit sector," said Melissa Tully, associate professor and interim director of the School of Journalism and Mass Communication. "Kevin is always willing to meet to discuss the program, its students, and its mission. He shares his experiences with us and with the students, providing a connection that shows the students the power of philanthropy."
The NLP Certificate impacts nonprofit organizations that play vital roles in supporting the quality of life in their communities and have unique management, funding, and finance issues requiring specialized training. 
"I love nonprofits, and I know that it is a noble career path, so being able to share that with students and help them connect the dots and see opportunities they had not seen previously is exciting," Vick said. 
The program provides a balance of academic principles and real-world experience, as well as a fundamental understanding of how nonprofit organizations participate in building communities. Core courses cover nonprofit leadership, organizational effectiveness, fundraising, communication strategies, and nonprofit ethics and governance essentials. Electives allow students to explore interests in entrepreneurship, politics, the arts, healthcare, social work, and more.
"They know that they would love to have a career where they are making an impact and doing things that are very meaningful to them in their areas of passion, whether it is food insecurity to homelessness to healthcare," Vick said.
Julia Albrecht graduated from the University of Iowa in the Spring of '22 with a bachelor's degree in Communication Studies and an NLP Certificate.
"I chose to participate in the NLP Certificate program as I wanted my future career to have meaning and make an impact," Albrecht said. "The program provided me with an educational foundation that allowed me to explore various career paths within the nonprofit sector. While I wasn't always sure that I wanted to pursue a career in major gift fundraising, the NLP Certificate helped me identify that passion and gave me a truly holistic understanding of nonprofit operations."
Albrecht is now an Assistant Director of Development for the University of Iowa Center for Advancement, specializing in engaging with the medically trained University of Iowa alums and identifying their unique philanthropic interests.
84 students are currently enrolled in the NLP Certificate coming from 30 different majors including Communication Studies, English and Creative Writing, Enterprise Leadership, Finance, Global Health Studies, International Studies, Journalism & Mass Communication, Management, and Marketing.
"They are getting introduced to and discovering the NLP Certificate program through their curiosity about the nonprofit sector, their experience working through mission-based organizations in high school, and family and friends they know about who have worked in the nonprofit sector," Vick said.
Nonprofit Education Rooted in Community Engagement
While taking core classes, students are introduced to many nonprofits and missions while learning about the roles that people fill within them. Whether fundraising or communications, volunteer management, event planning, or running programs, students learn through exposure to CECs, working with community partners, and having guest speakers come in. This exposure builds excitement about opportunities in various career paths that are potentially in front of them while forming relationships that can lead to future career opportunities supporting area nonprofits.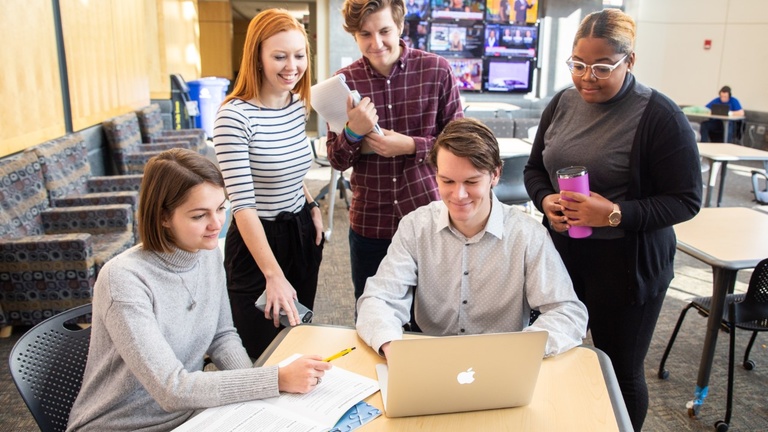 "The main focus is that we are building skills; what better way to help students develop those tangible skills than doing projects and real-world projects for nonprofits," Vick said. "It is about the foundation of understanding nonprofit work and the missions they support. Following graduation, we have prepared students to go out and produce projects, whether tangibly knowing how to write solicitation letters, develop an annual report, have a better understanding of teamwork, and develop a strategic plan for a nonprofit or how to start a nonprofit."
Beyond the program's intention to provide a pathway for students to directly impact Iowa nonprofits and the communities they serve after graduation is the abundance of community CECs that students participate in throughout their educational journey. For community partners in Iowa, this means impact begins in the classroom. For many students, nearly every course of the certificate program can be community-engaged, unique among certificates offered at the University of Iowa.
"It all has a natural connection to the organizations doing this work," Vick said. "Students benefit from these hands-on experiences, and a tremendous bonus for their nonprofit partners is they often receive deliverable materials created for them. So, it's a natural fit for this skills-based program and the work being done throughout the corridor and extended throughout Iowa."
The NLP Certificate has had approximately 66 nonprofit partnership projects between students and Iowa nonprofits since merging the certificate programs in 2019. Some participate in multiple classes, partnering with students working on strategic planning in one class and other deliverables in the other.
Adelaine Horan graduated from the University of Iowa in the Fall of '22 with bachelor's degrees in Music Education and Clarinet Performance, along with completing the NLP Certificate.
"I chose to participate in the NLP Certificate program because I was looking for ways to augment my existing degrees and broaden the scope of skills and experiences I'd encounter by graduation," Horan said. "This choice helped guide me into a career I am passionate about and prepared me for my job in the nonprofit sector."
Horan took several CECs as part of her NLP coursework and helped area nonprofits by creating communications strategies and materials for the League of Women Voters of Linn County as part of the Nonprofit Communications course and completing an ethics and governance structure audit of Big Brother Big Sisters of Johnson County for Nonprofit Ethics and Governance. 
"For students who want to work within community organizations, it is important to start engaging with the community," Horan said. "Not only do these experiences give you valuable behind-the-scenes insights into how nonprofits function, but they also give you opportunities to start making connections with organizations that interest you."
A final community-engaged course Horan took before graduation was Nonprofit Organizational Effectiveness II, which partnered with United Action for Youth (UAY) to create communications materials and plans with student groups.
"I had been figuring out where I would complete my nonprofit internship the following semester," Horan said. "After enjoying working with UAY during the class project, I asked about completing my internship with them. If I hadn't partnered with UAY during that class, I might not have had the chance to connect with them. That opportunity directly led to my internship and my current job!" 
Horan now works with the SPARK! The program, part of UAY - an Iowa City-based youth services organization - connects teens to outdoor, recreational, and creative experiences, focusing on populations facing barriers to those experiences, especially young people of color and low socioeconomic status. 
Horan's role in the program primarily involves planning collaborations with community partners and designing and leading activities with young program participants.
Community Partnerships in the Classroom Build a Future of Impact
"I can speak firsthand to one of the first community partners I worked with in Nonprofit Communications," Vick said. "The RARE group, an Iowa City nonprofit that rescues and rehabilitates raptors, assists community members who find injured birds by sending someone out to pick it up and take it back to their facility to provide medical care."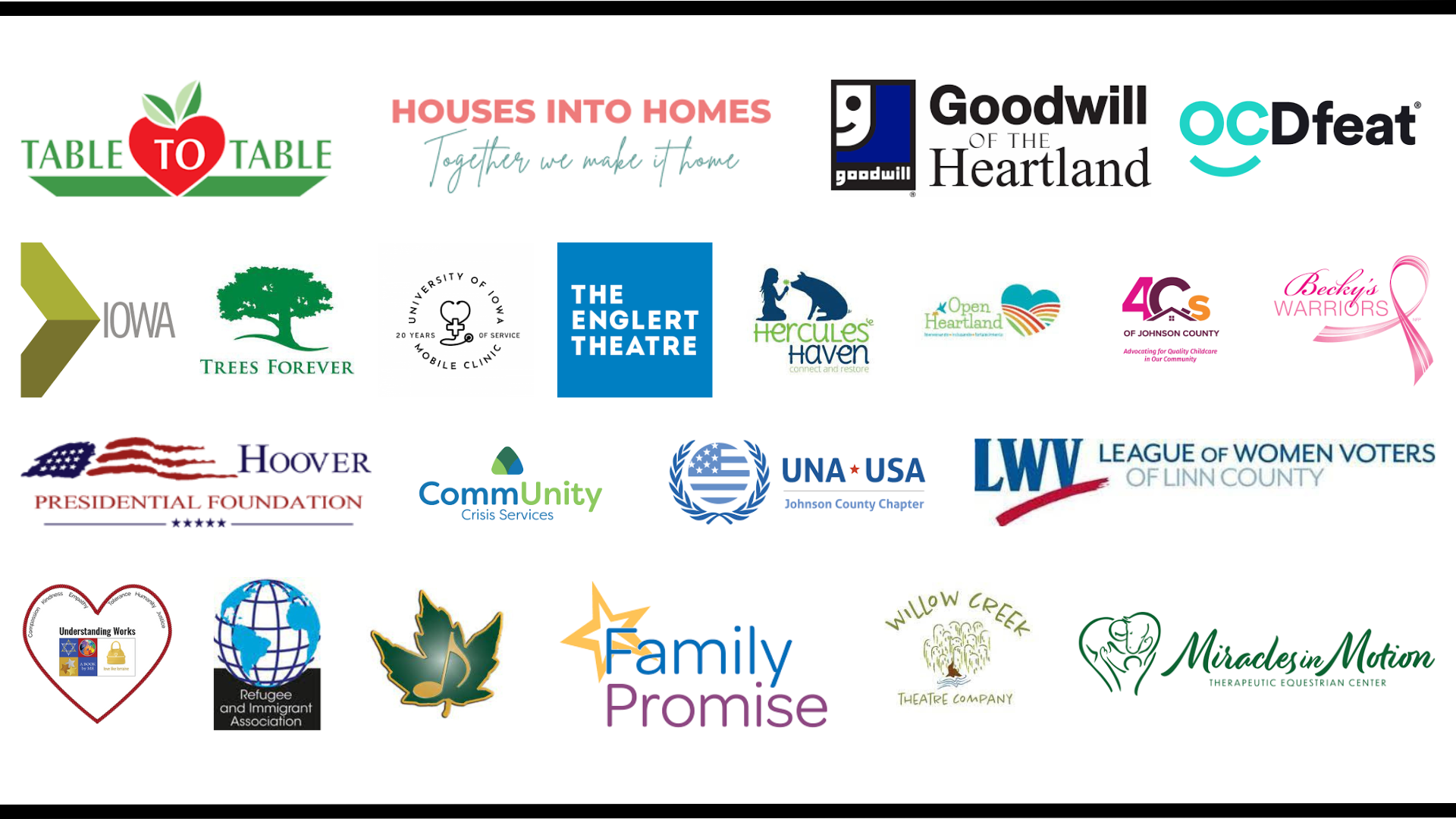 RARE is a volunteer-run nonprofit with many committed community members who want to make a difference in their area of focus. Nonprofits like RARE often need tangible skill sets for creating logos, developing informational brochures, designing a website, strategic planning, or drafting a template for an annual report. Student projects with them have looked at foundational materials and planning that need to go into helping support a nonprofit and create materials and provide resources based on best practices. 
"When students gave their final presentation, one of the board members was tearing up and overwhelmed by the fact that these students had spent so much effort, time, and energy to create these resources for them to be able to further their mission," Vick said. "Often, there is a lot of frustration. There is so much they want to do. Still, these volunteer-run organizations are made up of people all working full-time jobs and doing their best, so these students directly impact the work those organizations do within our community."
Other student partnerships have included creating volunteer marketing materials for a Coralville nonprofit providing furniture for those in need and social media analysis for a health tech startup serving children with OCD, among many others. 
Claire English graduated from the University of Iowa in the Fall of '22 with a bachelor's degree in Political Science and an NLP Certificate.
"I chose this program because I was a Political Science major that knew I didn't want to go to law school," English said. "There are only a few jobs specific to Political Science if you don't go to law school or work in Congress. My advisor recommended looking into certificate programs, and NLP interested me immediately." 
English also took the Nonprofit Communications class taught by Vick, partnering with the Iowa Children's Museum to conduct a communications audit and create a donor report, fundraising campaign template, and an enhanced corporate donor portfolio. 
"I learned so much by doing this hands-on work for the Iowa Children's Museum with Jenifer's help," English said. "I had many moments that made me want to continue working in nonprofits. The information from the Iowa Children's Museum gave me a more in-depth look at some things that happen in nonprofits and a chance to work on these before I entered the real world! I learned so much from these projects."
English is now a Donor Relations Associate for the Greater Cedar Rapids Community Foundation, providing support to the development team and assisting with donor stewardship, fund management, and operational support. 
"I can't recommend enough how important this program was for me and my career!" English said. "My employers and coworkers have commented how advanced my knowledge of nonprofit operations is as a recent graduate, and it is all thanks to the NLP Certificate program."
Strengthening Pathways for Hawkeyes Committed to Nonprofit Careers
"It's very deliberate and focused, and that's where the most significant impact comes," Vick said. "NLP graduates are doing those job searches specifically within nonprofits in the communities where they want to live. That is different because this is a certificate program, not an undergraduate degree or major they have chosen. They come from all these other majors, but the certificate is often driving their choice for their career and how they will impact the world following graduation."
Many University of Iowa graduates who complete the NLP Certificate program choose to stay in Eastern Iowa or move to communities across the state and continue having an impact following the model set by in-class community partnerships, internships, and CEC experiences.
"They are now working in the nonprofit sector, impacting the incredible work nonprofits are doing throughout Iowa," Vick said. "To have this pipeline of highly educated and supported individuals who desire to work in the nonprofit sector is very exciting. It's not someone who's just falling into a role. These are people focused on a desire to begin a career in the nonprofit sector to impact the work and mission of nonprofits throughout Iowa."
Vick says the future of the NLP Certificate program is all about relationships and expanding access to community-engaged classroom experiences that will continue to fuel outcomes for Iowa communities from undergrad to post-graduation professional impact. 
"Students learn by doing. NLP faculty are committed to doing the work necessary to give our students quality learning opportunities," Vick said. "We are preparing students to go out into the world to positively impact the critical work being done by nonprofits. What better way to start that mission than by impacting the nonprofit community partners they work with in the classroom."
Many NLP Certificates go on to support area nonprofits after graduation. Below is just a sample of the impact that recent graduates are having in Iowa communities:
| | | | | | | |
| --- | --- | --- | --- | --- | --- | --- |
|   | NAME | GRADUATED | MAJOR | JOB POST-GRADUATION | ORGANIZATION | LOCATION |
| | Hannah Rickert | 2022 | Psychology | Finance and Operations Manager | Iowa Women's Foundation | Coralville |
| | Adelaine Horan | 2022 | Music Education | SPARK! Program Youth Engagement Advocate | United Action for Youth | Iowa City |
| | Claire English | 2022 | Political Science | Donor Relations Associate | Greater Cedar Rapids Community Foundation | Cedar Rapids |
| | Siri Hippler | 2022 | Communication Studies | Community Relations Associate | Living History Farms | Des Moines |
| | Hannah Helms | 2022 | NLP Certificate | Volunteer Coordinator | Horizon's Family Services Alliance | Iowa City |
| | Sara Becker | 2022 | Theatre Arts | Direct Service Professional | Discovery Living Inc. | Cedar Rapids |
| | Michelle Anderson | 2022 | Communication Studies | Williams Fellow | University of Iowa Center for Advancement | Iowa City |
| | Holly Harris | 2021 | Portuguese and International Studies | Manager of Programs and Operations | Global Ties Iowa | Iowa City |
| | Sophie Sheeder | 2021 | Social Justice | Communications and Events Coordinator | Sustainable Iowa Land Trust | West Branch |
| | Lizzie Ambre | 2021 | Journalism & Mass Communication  | Annual Fund Assistant Director | Coe College | Cedar Rapids |
| | Julia Albrecht | 2021 | Communication Studies | Assistant Director of Development | University of Iowa Center for Advancement | Iowa City |
| | Cindy Garcia | 2018 |  Journalism and Mass Communication | Communications Manager | American Civil Liberties Union of Iowa | Des Moines |
| | Julia Winter | 2016 | Therapeutic Recreation | Director of Development | CommUnity Crisis Services | Iowa City |
| | Missie Forbes | 2014 | History | Executive Director | 4Cs of Johnson County | Iowa City |