Monday, November 14, 2016
Two Iowa Writers' Workshop graduate students traveled around the state of Iowa bringing arts to local communities.  With support from University of Iowa's Arts Share program, Raj Chakrapani and Anca Roncea have spent time in rural Iowa towns facilitating writing workshops in local Iowa communities. Arts Share utilizes UI graduate students and faculty members to host workshops, perfomances, and readings with the goal of sharing the University of Iowa's unique creative resources with the rest of the state. Read more about Raj and Anaca's partnership with Arts Share: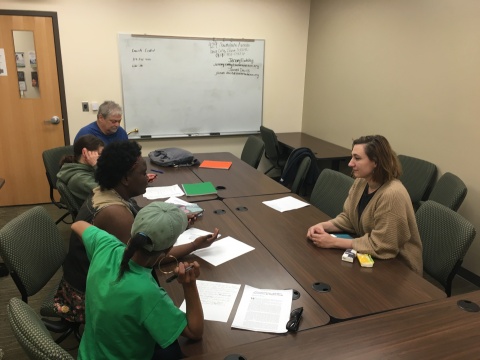 Where did you go to college? 
Raj: I went to college at UC San Diego where I studied World Literature. I studied under the poets Fanny Howe and Rae Armantrout.
Anca: The University of Bucharest, Romania.
What made you interested in the Iowa Writers' Workshop? 
Raj: I had been living in Berkeley with my partner, Anca, who was a Fullbright School at UC Berkeley studying the Beat Poets. We participated in the Berkeley Summer Creative Writing Program and met a number of poets who told us about MFA programs like the Iowa Writers' Workshop. We decided to apply and I feel pretty lucky that we were accepted.
Anca: I lived in Berkeley between 2012-2013 as a Fulbright Scholar and while doing research for my project I started writing poetry and was encouraged the poet who was my project advisor at the time to apply to MFA programs with my poems and the Writers' Workshop seemed to be THE haven for writing.
What is your involvement with Arts Share? 
Raj: I worked with Arts Share as part of a Research Assistantship through the Iowa Writers' Workshop. It turned out to be one of the best experiences I had since coming to Iowa City. As part of my work with Arts Share I was able to travel all round Iowa, facilitate workshops with different kinds of people and students and collaborate with artists in other genres such as film and creative journalism.
Anca: Throughout the past year I have become involved in several outreach projects started by Arts Share and I have to say it has been an amazing experience to have the opportunity to get to know Iowa better but also Iowans.
What's your favorite part about teaching these workshops? 
Anca: One thing that makes me really happy about these workshops is to get to travel to different parts of Iowa and meet people there. I have heard so many interesting stories and have had a chance to see a side of American culture I would not have had access to otherwise.
Raj: Iowa is [a] very diverse state with lots of small towns and communities of artists and I like that we have a chance to facilitate workshops in different areas, hear people's stories and the interesting ways they approach art. It's nice to feel welcomed and the people we meet have been enthusiastic in sharing their poems, stories and art work with us.
What are the participants learning in the workshop?
Raj: Most of the time we bring in a short story, an essay or a couple poems to the workshop. We have the participants read and then discuss the piece of writing. After the discussion, we give the participants time to do some creative writing. Finally, my favorite part, we share the work that people have written and give feedback, discuss strengths and weakness and ways to revise and improve their writing.
Anca: Hopefully participants are learning to take the idea of writing more seriously and that it's not an activity dedicated to professional writers and journalists, it's something they always have access to, that they can always do. Writing can be a personal space that anyone can have and that can often be a haven to process life experiences.
Any memorable participants in the workshops? 
Raj: We have one participant at the Shelter House who has faithfully been attending for all the months we've been facilitating the workshop. Her stories are always fresh and interesting and she has been extremely helpful in giving feedback to the other writers. She's an exemplary writer and also a wonderful person.
Anca: There was an amazing poet that used to come to one of the workshops, her day job, I think, was working in the kitchen of the restaurant and I remember one time she wrote this amazing poem about a pile of dirty dishes that she talked about as if it was a dragon, it was some of the most vivid imagery I'd read.
How was it traveling around the state of Iowa? See anything interesting or new?
Raj: Sometimes we get a chance to explore the cities where we facilitate the workshops in Iowa such as Washington and Creston. We spend some time in the library or a coffee shop and have a chance to talk to people or just observe the atmosphere. I've started to understand how Iowa is put together and how the little cities and towns feed into a greater sense of identity – it used to surprise me that Iowa City is considered a big city for some people. We also visited some tourist spots like the Bridges of Madison and the John Wayne Museum.