Iowa Writers' Workshop graduate students bring empowerment, validation, and the tools for self-expression to Iowa communities through Arts Share
Longstanding partnership has uplifted generations through the power of the written word

Iowa City, IA – October 18, 2022 - For nearly 30 years, Iowa Writers' Workshop (IWW) students participating in Arts Share have acted as a bridge connecting writers from the distinguished writing program to Iowa communities through a broad range of interactive writing-based workshops brought to schools, libraries, community groups, and nonprofit organizations.
As an integral part of the Office of Community Engagement (OCE) at the University of Iowa (UI), the Arts Share program is a catalyzing force, bringing hundreds of community-engaged arts events to Iowa communities every year while enriching student experiences throughout arts disciplines.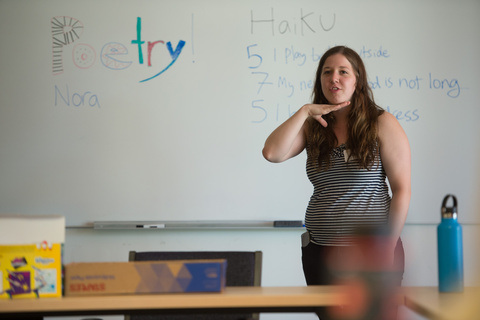 Public murals, musical performances, dance ensembles, writing workshops, and theatre arts performances engage UI artists with communities, inspiring the creative process for residents while showcasing their craft and helping express local history and culture in new ways. 
In 1995, Arts Share re-formed to share University of Iowa arts resources with Iowa communities and has grown every year in the number of communities served and the diversity of meaningful projects brought by students in dance, theatre, music, arts, and writing. 
From those departments, graduate students from the Iowa Writers' Workshop (IWW) were among the first to join and have maintained an enduring partnership over the years.
"We've been building on it ever since," said Leslie Finer, director of Arts Share. "When writers from the IWW go out and visit local communities, they create some of the most fruitful partnerships we've ever had. Their work ties into the school curriculum, impacts emerging writer craft and confidence, and is incredibly valuable in reaching diverse student audiences of all ages."
IWW and Arts Share graduate assistants (GAs) partner to develop projects that impact and uplift communities by leveraging writing as a means of expression for individuals from all walks of life, from senior citizens to elementary through high school students, libraries, and community writing groups.
"It has been such a gift for Workshop students to participate in Arts Share for thirty years," said Lan Samantha Chang, director of the Iowa Writers' Workshop. "Arts Share has given a generation of emerging writers a unique opportunity to share their passion for writing with the wonderful and supportive Iowa community." 
THE PARTNERSHIP
Participants from the IWW can teach, workshop, and take what's happening in their graduate program and share it with aspiring writers in communities throughout the state.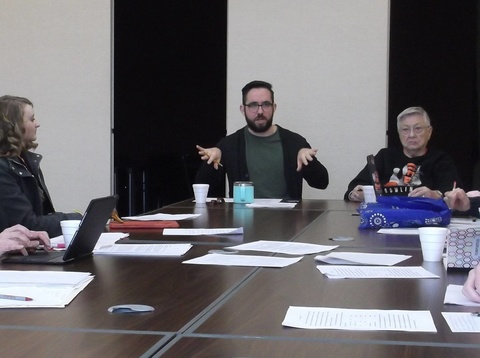 "They want to get to know these different communities," Finer said. "Getting outside the academic bubble and sharing their love of the craft is valuable, which benefits everyone who has access to these fantastic writers."
The University of Iowa recently ranked as one of the top writing universities in the country, bolstered by IWW and its legacy as the first creative writing degree program in the United States, regularly producing Pulitzer Prize winners, poet laureates, and cultural icons from across the spectrum of literary writing. 
"These students come in with a high caliber of talent and expertise from the top echelon of their field," Finer said. "For them to go to these different groups and demonstrate that they are accessible and open to supporting the broader community beyond their trajectory as accomplished writers has an enormous impact on the participants who work with them."
LeAnn Kunz, who runs the Washington Free Public Library in Washington, IA, regularly hosts Arts Share GAs from the IWW in her community writing group, with around 25 writers visiting since 2015.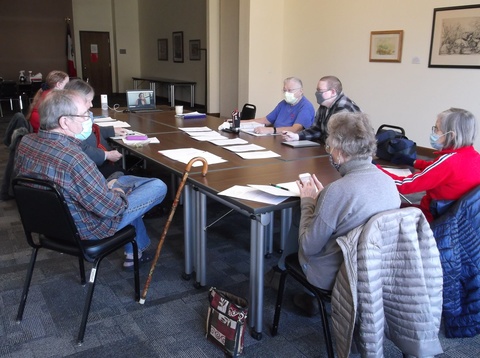 Kunz learned about Arts Share through the University of Iowa and worked with Finer to partner with writers from the IWW, arranging for them to join as visiting writers each month.
"I wanted our community to have the opportunity to develop their writing at a higher level," Kunz said. "Many of us do not normally have a chance to learn writing craft and be mentored by a graduate student. Arts Share has brought inspiration and confidence to cultivate better writers in Washington, IA."
Beginning around 2009, with various writing programs that eventually morphed into the Washington Writers' Workshop (WWW), Kunz had exhausted many local writers and teachers as presenters.
"Our regular WWW members and the community are ecstatic over the quality of presenters that visit us," Kunz said. "Something magical happens once the writers enter the library and begin engaging with our group."
The group of writers, young and young at heart, in the Washington, IA, community meet monthly for two hours, the first devoted to a presentation on craft and the second to workshopping the writers' submissions with visitors from the IWW. 
IWW writers share simple but effective ideas for improving writing, leaving those who attend the sessions with a sense of enrichment.
"The respect and attention they give to our pieces and members are impressive," Kunz said. "Our writers, who are not all highly educated, leave feeling validated and valued. We learn so much during these sessions."
THE GRADUATE STUDENT EXPERIENCE
Partnering IWW students with Iowa communities begins with graduate students from the Workshop who join Arts Share each year, bringing new programming and networking ideas, traditionally from within Poetry and Fiction Writing disciplines. 
"Arts Share is constantly working to bring new, relevant programming to Iowa communities, and writers from the IWW help to do that in meaningful ways," Finer said. "Once a school or organization partners with Arts Share to bring writers in, they know how to do it, find it worthwhile, and keep coming back year after year." 
The IWW, known for being an intensely dedicated and close-knit group, is also one of the easiest to coordinate with for partnerships. 
"I have found that requests from schools and organizations to do workshops or readings are some of the most easily fulfilled because the writers jump at the chance to share their craft," Finer said. "Within minutes of sending out a request, we get dozens of writers offering to go out and visit communities, which speaks to their enthusiasm and intention about having an impact beyond the University."
Paul M. Maisano, novelist, editor, and now creative writing teacher, joined Arts Share as a GA while attending the IWW in 2014, graduating in 2016 with a Master of Fine Arts (MFA) degree in Fiction.
"During my time there, I had the pleasure and privilege of working with Leslie Finer and Arts Share," Maisano said. "I didn't have a teaching obligation in my first year and was looking for some meaningful work. I learned about the opportunity through the Iowa Writers' Workshop."
During his time with Arts Share, Maisano visited middle and high schools and libraries throughout Iowa and coordinated the visits of other writers within the IWW. 
"It was impactful because I saw how engaged and interested students were in creative writing and how well they responded to it," Maisano said. 
Maisano brought a class plan that featured a story by Sherman Alexi called What You Pawn I Will Redeem, broken up into 24 sections structured as a clock from noon one day to noon the next. 
Students would read as different characters or the narrator through a couple of 'hours' of the text from sections of the clock. The group would then discuss the plot, setup, and structure and write what they thought would happen in the next 'hour' or two. 
"Then we share what people come up with and communicate with each other how many different ways stories can go and how people imagine them," Maisano said. "Students get to hear how different our voices are even when given the same premise and characters, which celebrates the diversity of voices."
Maisano said that when a student comes to him after class and expresses that they have felt empowered to write more in their own lives, it is some of the best feedback a visiting writer can receive.
"What Paul shared with our students provided rich and substantive ideas about creative writing, and we plan on stealing his lesson - the highest praise of all," said Karen Downing, a teacher at Valley High School in Des Moines, IA. "His lesson found a vehicle for students to access an important sense of who they are in a way that wasn't intimidating." 
Another educator who worked with Arts Share expressed that the experience benefited students while elevating the quality of instruction beyond what may be financially feasible for the school.
"It was a joy to watch my students sitting at tables with 'real writers,' happily talking about books and writing," said Sue Protheroe, a middle school teacher in Solon, IA. "Over and over, the students told me how good it felt to be valued for their writing. Budgets are tight at schools – and everywhere else, I know - and the only way I can partner with Writers' Workshop students is with the generous support of the Arts Share program." 
"Artshare is working, and those far from Iowa City value their generous community outreach," Downing said.
Another program that connects youth in the community to the IWW through Arts Share is the Summer Arts Camp.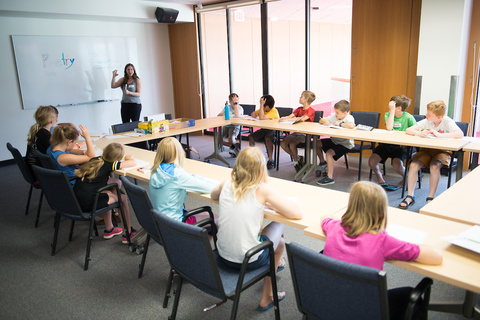 "Some kids come to camp and think that writing isn't for them,'" said Leslie Finer, director of Arts Share. "Then they participate in a writing workshop with these extraordinary graduate students who make writing enjoyable. IWW writers help younger kids who can't write yet learn to think like a writer." 
Arts Share has a long history of connecting students in the IWW with schools and communities throughout the state, with about half of the program participants being from K-12 schools. In addition to workshops in schools and libraries, they've also had programs working with specialized populations, including chronically ill patients, veterans, and Shelter House residents.
"We did a fantastic program where a writer visited with retired nursing home residents to help tell their stories," Finer said. "Residents responded to a prompt or wrote about their own experiences, then workshopped with IWW students, created a 'perfected' piece about their life or illness, and then shared it with their family or healthcare practitioner. The experience was vital for them."
Patients across Iowa came to the University of Iowa Hospitals, working with IWW students at Arts Share on the Patient Voice Project, which became two self-published anthologies that included stories written by over 40 participants, many of who brought their stories to local libraries.
TAKING THE EXPERIENCE BEYOND IOWA
As a young person, Paul Maisano was always serious as a writer but had never considered writing a career, instead focusing on what was considered more 'practical pursuits.' Eventually, he realized there could be a future in writing, came to the University of Iowa, got an MFA degree in Fiction, and dedicated his life to writing. 
During his experience at the IWW and with Arts Share, Maisano developed a passion for connecting high school students with the arts that extended beyond his time with the program.
"It's a little surprising that I ended up working with high school students because my experience wasn't so positive when I was in high school," Maisano said. "Working with Arts Share exposed me to the benefits of emphasizing the arts in public high schools." 
After graduation, Maisano had a third-year fellowship, which included a one-month residency at the New Mexico School for the Arts. 
"Here was my first opportunity to take what I had experienced on a smaller scale working with Arts Share and high schools in Iowa," Maisano said. "I got to see how that translated at an arts academy dealing with students who had already decided to study creative writing." 
While in New Mexico, Maisano got an agent and, about a month later, sold his first novel Bindi, published by Little, Brown, and Company in 2018.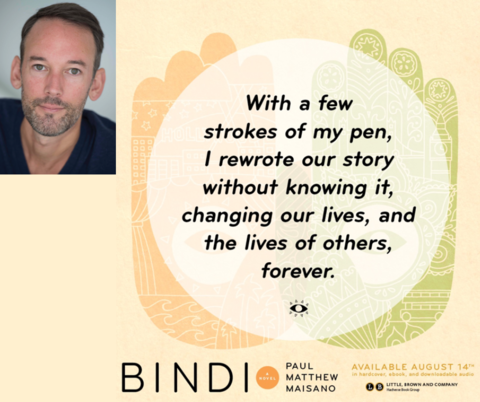 Maisano is now part of the creative writing faculty at Idyllwild Arts Academy in Idyllwild, California. 
"I enjoy teaching at the high school level and working with this age group," Maisano said. "I feel they need creative outlets to support them with the world they inherit. I came to Idyllwild to help youth through creative writing, the arts, and mindfulness, and the school has an awareness that I appreciate." 
Maisano said he models his writing workshops after those he experienced as an MFA student in Iowa.
"We are exposing students to fiction, poetry, and creative non-fiction," Maisano said. "The difference is that here the focus is on helping them find their voices. When you are in the MFA program, the assumption is that you've found your voice and are working on execution." 
Maisano's workshops at Idyllwild look more seriously at craft and helping students develop their skills as writers. 
"Even if they don't become fiction writers or poets, the ability to express themselves with care, intention, and authenticity are valuable regardless of their career path or course of study," Maisano said. 
Maisano has brought his experiences as a writing student in the IWW and teacher through Arts Share to new generations of students in the arts and looks forward to future opportunities to connect IWW writers with students at Idyllwild.
Story by James Dykeman.
~~~
FEATURED PROGRAM PARTICIPANTS
NAME
EVENT
LOCATION
CITY
Alicia Wright
Inspire Café
 
Dubuque
Alyssa Moore
Poetry Reading & Panel
Southeastern Community College
West Burlington
Amanda Nadelberg
Poetry Reading & Panel
Southeastern Community College
West Burlington
Anais Duplan 
Achieving Potential
Southeast Jr. High School
Iowa City
Andrew Saito
Playwriting Workshop
Lincoln Elementary School
Iowa City
Benjamin Bush
Writing Workshop
Washington Public Library
Washington
Carmen Machado
Writing Workshop
West High School
Iowa City
Christina Cooke
Writing Workshop
Shelter House
Iowa City
Daniel Kalastchi
Writing Workshop
Horn Elementary
Iowa City
Deborah Kennedy
Reading at Literary Festival
DMACC
Des Moines
Dora Malech
Iowa Youth Writing Project
Spring SMART Camp
Des Moines
Eskor Johnson
Achieving Potential
Southeast Jr. High School
Iowa City
Fatima Mirza
Metro Library Network Readings
Marion Public Library
Marion
Izzy Casey
Writing Workshop
Washington Public Library
Washington
Jackson Burgess
Inspire Café
 
Dubuque
Jane Wong
Poetry Reading & Panel
Southeastern Community College
West Burlington
Jen Silverman
Playwriting Workshop
Lincoln Elementary School
Iowa City
Jorrell Watkins
Poetry Reading & Panel
Southeastern Community College
West Burlington
June Melby
Big READ Program
 
Waukee
Katherine Gibbel
Poetry Reading & Panel
Southeastern Community College
West Burlington
Kelsi Vanada
Writing Workshop
Washington Public Library
Washington
Mark Prins
Writing Workshop
Clinton Community College
Maquoketa
Nora Miller
Writing Workshop
Washington Public Library
Washington
Olivia Friedman
PVP
 
Iowa City
Sara Akant
Writing Workshop
Four Oaks Bridge 
Cedar Rapids
Seth Abramson
Poetry Reading & Panel
Southeastern Community College
West Burlington
Skylar Alexander
Iowa Youth Writing Project
Scott County Library
Princeton
~~~
From scheduling ensemble tours such as the University of Iowa Dance Company and the Iowa Percussion Ensemble to readings by writers from the world-renowned Iowa Writers' Workshop (IWW), the Arts Share program has coordinated 300+ events per year for nearly three decades with artists committed to bringing arts programming to communities throughout Iowa through workshops, performances, and public art commissions.
Learn more at engagement.uiowa.edu/arts-share