Grant Wood Art Colony fellow Kieron Sargeant challenges students to think different while bringing rich African Caribbean dance traditions to the University of Iowa campus and community partners through community-engaged teaching and research
A Trinidadian-born interdisciplinary artist, choreographer, dancer, and dance researcher emerging from the African-Caribbean tradition, Kieron Sargeant received an MFA in Dance Performance and Choreography from Florida State University and an MA in Community Dance Practice from Ohio University.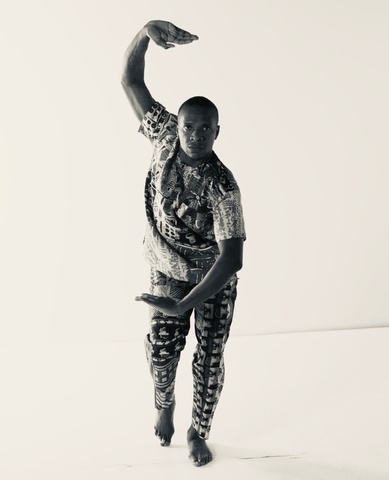 In 2020 Sargeant founded and launched the Kieron Sargeant Dance and Dance Education Foundation of Trinidad and Tobago, a new platform for artists and dancers to 'nurture their creativity, inspire their environments, and empower themselves and the future of the arts industry' in Trinidad and Tobago.
In 2022, Sargeant won the compitative process to join the Grant Wood Art Colony (GWAC) fellowship. This in-residence program allowed him to further his research while teaching University of Iowa students and impacting campus and community partners by sharing his work in African dance traditions.
The GWAC fellowship provides a creative home for the next generation of artists at the University of Iowa while continuing Grant Wood's creative advocacy in the School of Art & Art History and the Division of Performing Arts through artist residencies, teaching fellowships, symposia, and community programs.
Sargeant learned about the GWAC fellowship from the University of Iowa Department of Dance chair, Dr. Rebekah Kowal, when he first arrived at the University of Iowa as a Visiting Assistant Professor of Contemporary Forms and African Diaspora.
"Dr. Kowal was the one who encouraged me to apply for the position," Sargeant said. "I felt honored to be encouraged and supported by her."
Sargeant was attracted to the fellowship position as it aligned with his artistic, teaching, and research goals.
"The Grant Wood Art Colony moves artmaking forward by advocating for the art," Sargeant said. "I seek to do the same thing inside my tradition."
INSPIRING INSIGHT AND CHANGE THROUGH DANCE
The GWAC Interdisciplinary Performance – Dance fellowship allowed Sargeant to continue to explore his research while interacting with the community to enhance understanding and engage University of Iowa students with new ways of interpreting the art form and themselves.
"I will have more time to do my research and work on developing new aspects of my artistic practice, which will lead to new collaborations, and audiences for my work," Sargeant said. "I am particularly interested in developing courses that fit the University's vision for diversity, equity, and inclusion."
As a Dance artist from the Republic of Trinidad and Tobago, Sargeant's focused his teaching on African Caribbean and African Diasporic dance practices and Spiritual and Ritual Practices.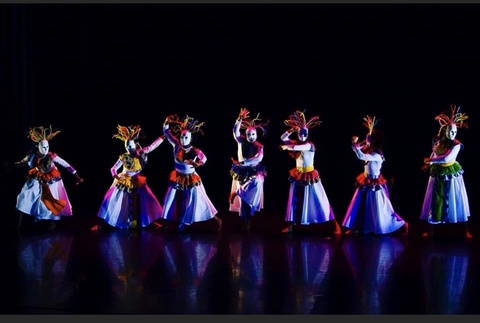 "I firmly believe in the value of personalized discovery as a vital tool for student learning and inquiry," Sargeant said. "My approach to teaching is to foster an embodied understanding of Caribbean and African Diasporic culture and identity, which helps students recognize how their bodies and personal histories play a role in the larger discourse of the Caribbean and African Diasporic culture."  
Through his lessons, Sargeant constantly challenged students to delve into their 'personal body histories,' asking what it meant for the body to 'exist in this space, time, day, and age' and 'what are the more significant contextual effects of life' that impact the how and why of their movement or behavior.
"I believe in making the material relevant to students' lived experiences, so they possess a better ability to make a connection and investigate the relationship between dance practices and the historical context from which those practices emerge," Sargeant said.
The University of Iowa is one of the few academic institutions in the United States that offers Brazilian dance and Afro Caribbean and African diasporic dance.
"I appreciate that the Dance Department and the University at large try to expose students to the global rather than just the provincial," Sargeant said. "They try to open up space for students and faculty to engage with difference… and I am happy to be a catalyst for this new direction."
CHALLENGING BARRIERS THROUGH DECADES OF RESEARCH
Over the past 20 years, Sargeant has been documenting, assessing, and analyzing dance traditions of the Caribbean to establish a canon of dance teachings and workshops, informed by his research, to popularize the ancestral survival of movement traditions between the Circum-Caribbean and Western Africa.
Sargeant's research, Embodied Ethnographies as a Diasporic Methodological Practices: Tracing Africanist rituals from Sacred Space to the Commercial Stage, focused on the emerging field of African Caribbean and African Diaspora dance practices. He explores regenerative and deconstructionist approaches to engaging with African Traditional Trinidadian Dances for the commercial and contemporary dance world.
"This research seeks to challenge the dichotomy between commercial and ritual dance through the contemporary black and brown body by questioning how legacy and ancestral knowledge are transmitted," Sargeant said.
Sargeant's research questioned 'patriarchal capitalist colonial involvement in displacing sacred rituals for monetary gain.'
"My work asks, how can black and brown dancing bodies mark the arrivals and departures of traditional African diasporic dance aesthetics as they function as containers or foils for embodied knowledge disseminated on the commercial stage through sacred displacement," Sargeant said.
Sargeant's research sought to locate itself along the continuum of traditional African practices in the contemporary world by examining the "The Limbo Dance," as practiced in Trinidad & Tobago and migrated to other spaces and practices.
Rather than imagining ritual and commercial dance as being opposed, Sargeant - through embodied ethnographic practices - illustrated how enacting The Limbo Dance of Trinidad and Tobago and others on both ritual and commercial dance stages functioned as parts of the same continuum of performance.
"This research demonstrates how Limbo Dance functions as a genealogical archive traced back through performances in sacred dance for efficacy and entertainment," Sargeant said.
Firstly, The Limbo Dance makes visible an embodied knowing, which in part is learning about one traditional dance and or legacy, its values, origins, history, and how to mobilize that knowledge through body-to-body transmission.
Secondly, the recent displaced enactment of The Limbo Dance recreates and preserves the link with ancestors, or those who have created the dances, with those who dance in their footsteps, creating living legacies made in the present.
Thirdly, The Limbo Dance, in practice, locates an aesthetic reference, a frame for reading and interpreting not only the form but its ritualistic representation, meanings, and symbols.
Through the GWAC fellowship, Sargeant continued to look for opportunities to reach Iowa communities through his art.
"The goals between the Grant Wood Art Colony and me are best illustrated by my deep desire to move artmaking forward and to have it open to the community," Sargeant said. "I hope to show my work at the African American History Museum and spaces on and off campus."
Story by James Dykeman