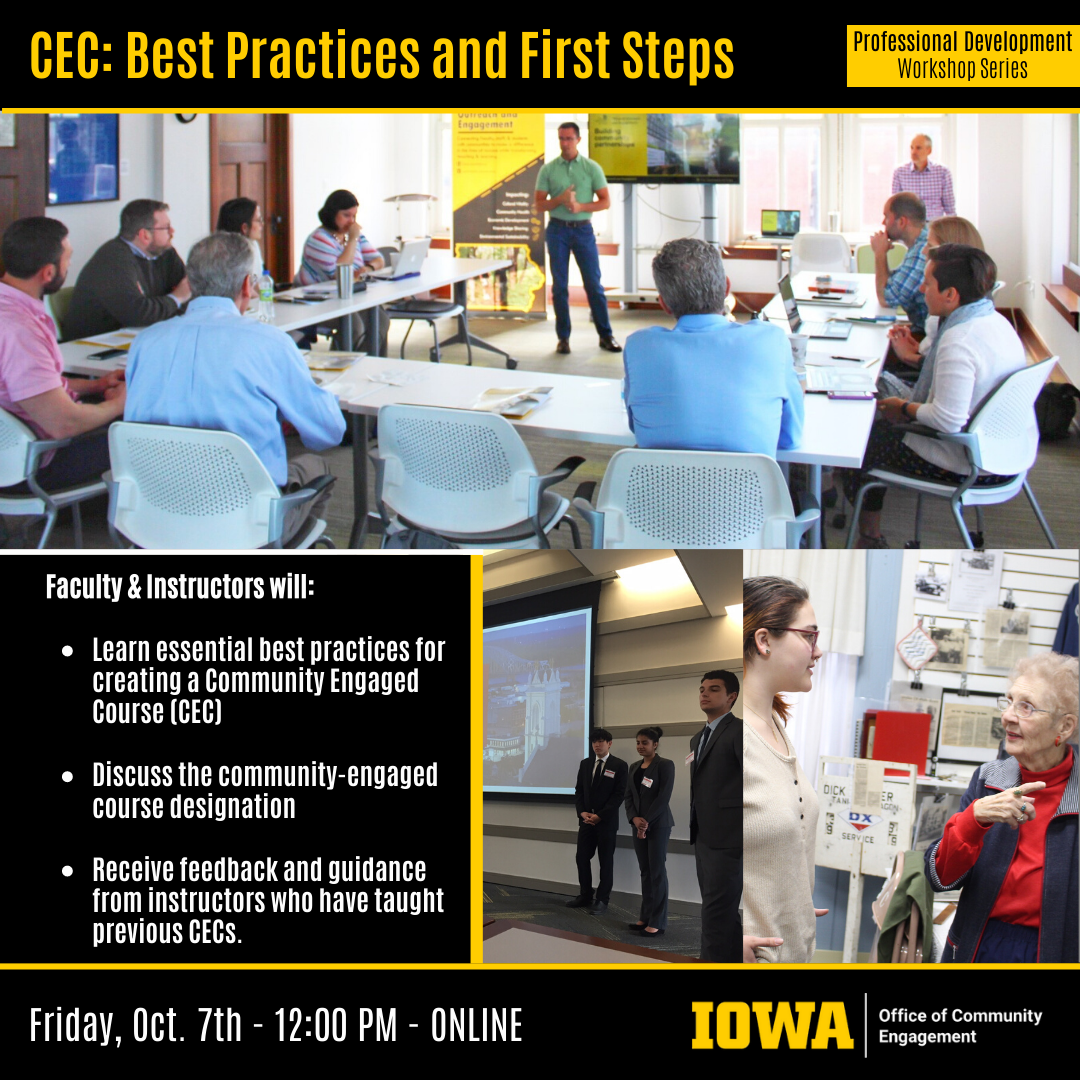 Community Engaged Course (CEC) Designation Application Workshop
CEC Designation Informational Session 
University of Iowa instructors who are considering including a community engaged component into their coursework and who are interested in applying for a CEC designated course in the coming school year are encouraged to watch this informational workshop.
The CEC Designation Informational Session provides an overview of the CEC designation, walks viewers through the application process and provides tips and recommendations for answering the questions in the application. 
Attendees will gain a better understanding of how to apply for the designation, structure coursework to benefit the student experience, and how to find and establish mutually beneficial community partnerships.
 If you have previously had a CEC course and wish to reapply,
 Instructions for new applications are below.
What is a Community Engaged Course (CEC)?
The Community Engaged Course (CEC) designation recognizes courses that integrate community engaged learning into course activities. Community engaged learning, sometimes called service learning, creates mutually beneficial partnerships between instructors, students and community partners that goes beyond direct service (e.g. cleaning up a community garden or tutoring youth) to deepen students' academic and civic learning.
While the University of Iowa follows the Carnegie Foundation's definition of community engagement, for the purposes of the CEC designation, the five criteria listed below serve as a roadmap for designated courses as a Community Engaged Course.
Community Partner - Students work with an organization or entity (e.g., public or private for-profit/not-for-profit, local or state government, community coalition) not directly affiliated with the University of Iowa as part of a credit-bearing course. 
Activities - Students participate in assignments (e.g., readings, discussions, reports, presentations), project meetings, community partner visits and reflections that incorporate community engagement experiences that relate to and interact with course subject matter. 
Mutual Benefit and Reciprocity - Mutually beneficial and reciprocal partnerships are the hallmark of a CEC. 
· Mutual benefit focuses on ensuring both students/faculty and community partners receive benefit from the outputs and outcomes of the CEC. For example, a new park design project completed by students in a civil engineering course furthers their understanding of course objectives, and the plan advances the community partner's ability to develop a new park. 
· Reciprocity refers to the process by which these mutually beneficial outcomes are achieved. In other words, a CEC advances shared goals and objectives developed by faculty/students and community partners in an equitable process. In the civil engineering course example above, the project is based on community need, determined by collaborative discussions between faculty/students and community partner. Faculty/students and community partners work together to identify shared values, goals and objectives that are followed throughout the park design project. 
Syllabus and Grading - The course syllabus and grading demonstrate that the community engagement activities are a substantial component of the overall course. 
Reflection - Students engage in meaningful and deliberate reflection of the community engaged learning activities throughout the course. The syllabus includes specific reflection assignments that ask students to reflect on other course assignments, community partner meetings and visits, and/or the overall course-community partnership. Reflections could be in the form of written assignments, group discussion, video blogs or exams.
Why should I apply for the CEC designation?
Research indicates that community engaged learning is a high impact learning practice for students. Courses that integrate community partnerships not only deepen student understanding of course material and help students better connect with their academic studies, but also provide students with the opportunity to enhance critical skills like professional communication, working in teams, and leadership.
Community engaged courses receive favorable reviews from students at Iowa. Recent survey data indicates that over 90% of students at Iowa who took a community engaged course would enroll in another community engaged course. The designation via MyUI will be the best way for students interested in engagement to proactively seek out your course.
The campus committee reviewing the CEC designation, in partnership with the Office of Community Engagement, will offer assistance with syllabus development and modification, community partnerships, assessment and evaluation, and other support needed to successful teach a community engaged course. Every application for a CEC designation will receive feedback from the committee.
The CEC Designation is a good way to connect with other instructors teaching community engaged courses. The Office of Community Engagement plans to offer gatherings for CEC instructors who would like to learn more about community engaged teaching and consider opportunities for collaboration.
How do I apply for the CEC designation?
Instructors may apply to designate their course through a short online application. All applications must be submitted by the time and date specified on the application. 
Apply for the CEC designation here
Instructors will be notified within two weeks of the application deadline whether their course received the CEC designation. If the course did not meet the CEC criteria, instructors will receive feedback and support in making any modifications that would contribute to a stronger CEC application. Applicants will have time to re-submit their CEC application before the final list is due to the Office of the Registrar shortly before courses are available for viewing by students.
The Office of Community Engagement is available to assist instructors in developing their CEC courses. Please reach out to Nick Benson at nicholas-benson@uiowa.edu to receive help in designing your course to meet the CEC designation standards.
 
Who decides who receives the CEC designation?
The Community Engaged Course Review Committee reviews CEC designation applications, provides feedback to instructor, and determines which courses receive the designation. The 2021-2022 CEC Review Committee is composed of the following individuals representing colleges and units across campus:
Nick Benson, Executive Director, Office of Community Engagement

Noel Mills, Graduate Research Assistant, Office of Community Engagement

Jenny Noyce, Associate Director, Experiential Education, Pomerantz Career Center

Sara

Nasrollahian Mojarad, Assistant Director, Center for Teaching

Nicholas Kavanaugh, Assistant Director, Experiential Learning, Tippie College of Business

Travis Kraus, Associate Professor of Practice, School of Planning and Public Affairs, Graduate College

Christine Getz, Associate Dean, Outreach and Engagement and Graduate Education, CLAS

Rema Afifi, Professor, Community and Behavioral Health, College of Public Health

Lisa Segre, Professor, College of Nursing