The University of Iowa is a diverse, destination university where students, faculty, and staff work with community partners across the state of Iowa and beyond every day to make a measurable, enduring, and meaningful difference through community engagement.
School of Journalism and Mass Communications and Nonprofit Leadership and Philanthropy student finds success after graduation due to community engagement experiences throughout undergraduate experience
Since 2021, I have had the privilege of meeting with community engagement advocates, instructors, students, and community partners across the University of Iowa to learn and share their experiences and impact in Iowa and beyond. Each month, our office brought their stories to you in our Voices of Community Engagement series, which live permanently on our website as an enduring example of the work being done across disciplines to connect campus and community partners with educational opportunities which uplift and improve the lives of people in communities large and small across the state.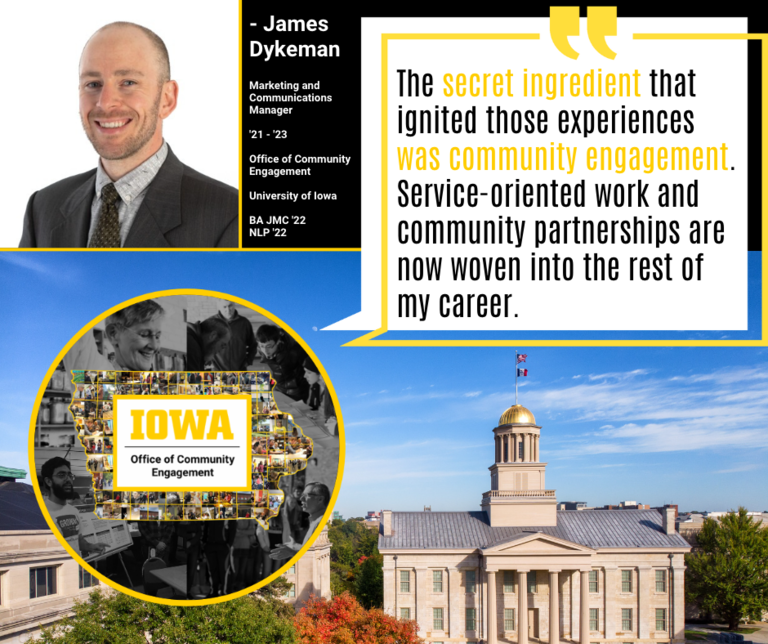 The final impact story I wish to share is my own, and how community engagement allowed me to excel as a Hawkeye and formed the foundation for my career ambition to help nonprofit organizations and the communities they serve. With this intention, I entered the School of Journalism and Mass Communication with an eye on the Nonprofit Leadership and Philanthropy Certificate. The goal was to learn the tools of mass communication to help nonprofits tell their most important stories as a vehicle for strengthening partnerships, raising awareness around community impact, and building support.
Many of the courses I took had a community engagement component, which allowed me to immediately begin having an impact by applying the tools of journalism and mass communication to support local community partners while learning how to lead and manage a nonprofit organization. With each successive course, I worked directly with organizations to craft fundraising material, promotional videos, written and audio stories, and strategic and board planning materials. Not only did these experiences allow me to provide deliverables to community partners to aid in their mission, but I also received practice working with leadership teams and board committees, along with groups in class, to align mission, vision, and voice while participating in critical, high-level conversations.
These experiences led to a passionate enthusiasm for community engagement. In classes that did not have a community engagement component, I began seeking community partners for projects that could have been a model or thought experiment. I developed an automatic response, asking myself if there was an opportunity to leverage in-class assignments to benefit a partner outside the University.
Those community-engaged courses led to an internship, bringing the communications skills I had learned and my community-oriented mindset to the Office of Community Engagement. I gained a deeper understanding of what community engagement was and the role that it had played in enriching my education and preparing me to uplift communities after graduation. By applying that model of impact-driven storytelling to a department focused on broad community impact at the University, I learned to bring those skills into focus, leading communications strategy for a large entity while creating and enhancing processes for institutionalizing demonstrated impact.
As the internship became a formal position, the engagement mindset expanded to colleges and departments across campus as I became dedicated to identifying and uplifting diverse voices and projects and sharing them in these impact stories, through social media, and across our many communications channels. As the OCE developed and expanded programs, such as the Graduate and Faculty Engagement Corps, Community Engagement Network, and leading the charge on Community Engaged Courses, new opportunities arose to share important stories of these programs' impact on uplifting communities in projects of their own.
These experiences, supercharged by community-engaged courses that I had taken, prepared me to respond to opportunities to assist local nonprofits with their communications strategies through creating websites, social media strategies, and advocacy for impact demonstrated at all levels of an organization. These volunteer projects became board committees and led to employment opportunities directing communications and now leading nonprofits from an executive level.
Without a doubt, the success that I have had is due to the quality of education and instruction received at the University of Iowa, empowered by the efforts of Melissa Tully at the School of Journalism and Mass Communications, the guidance of Frank Durham and Rachel Young, and the never-ending support of Jennifer Vick and the Nonprofit Leadership and Philanthropy Certificate. But the secret ingredient that ignited those experiences was community engagement, led by Nick Benson, which formed the foundation of service-oriented work and the importance of community partnerships now woven into the rest of my career.
Thank you for the opportunity to share the impact that Hawkeyes are having on Iowa communities and beyond.
- James Dykeman
Be the first to know about engagement opportunities, community events, and more!