Project focused on elevating stories of refugees and immigrants through community engagement now in the second phase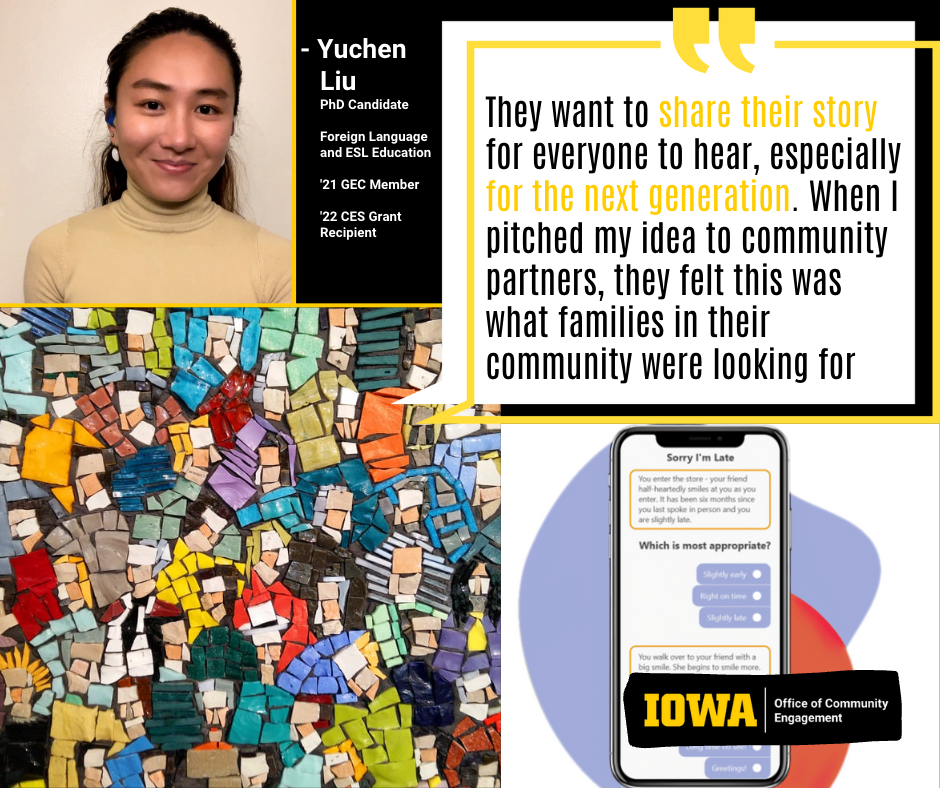 Building on her experience as an international student from Nanjing, China, Yuchen Liu, a Ph.D. candidate from the College of Education and ESL Program at the University of Iowa, had a vision that began to take shape in 2020.
Led by a passion for intercultural communication and the power of storytelling, she created a prototype for an app that would share stories of people coming into the United States and their experiences and struggles adapting to the differences in culture.
Liu's goal was that the application would be a central resource, housing stories of experience and tips for navigating challenging situations in multiple languages and from different perspectives from people coming in from countries worldwide.
In pursuit of that goal, Liu joined the Graduate Engagement Corps (GEC) in 2021 to learn more about engaging with communities, finding potential partners, and navigating the complex process of securing funding and support through the university system.
While in the GEC, Liu connected with Open Heartland, the African Communities Network of Iowa (ACN), and IC Compassion – all working with and advocating for immigrant and refugee populations in Iowa City and across the state.
In early 2022, Liu was awarded a $3,000 grant through the GEC, which gave her the resources to travel around to community partners to build support, create connections, and investigate the feasibility of connecting with members of immigrant and refugee populations to begin telling their stories.
"It's a tough journey for them," Liu said. "Leaving their home, coming to a different country – they feel like they are invisible. They want to share their story for everyone to hear, especially for the next generation. When I pitched my idea to the community partners, they felt this was what the families in their community were looking to find. Everything lined up perfectly. They said yes, let's do it together."
Liu's project, a preliminary investigation on how storytelling and a technology-based educational tool can support intercultural communication between communities and higher education institutions, became Language and Culture Contextualization: Digital Intervention in Intercultural Communicative Competence Development with Iowa's Non-profit Community Organizations.
In January 2022, Liu learned about the Seeding Excellence: Community Engaged Scholars Grant offered by the Office of the Vice President for Research (OVPR) at the University of Iowa. With support from the GEC and Office of Community Engagement, she applied for and won a $50,000 grant to continue her work.
The Language and Culture Contextualization project began in late 2022 in partnership with IC Compassion and the ACN. The first phase involved meeting with immigrants and refugees served by those two organizations to listen to their stories. The second phase will transcribe, and archive participant experiences for later use on a digital platform.
Peter Gerlach, visiting assistant professor in International Studies and faculty advisor on the project, explained that immigrants and refugees are often hyper-visible and invisible, which can be a detriment in highly divisive political cultures such as that in the United States.
"It is important for us to all realize that we are all in community with one another, so the more we can amplify these stories, the better," Gerlach said. "Recording and archiving stories, and helping people find community with one another within the conversation circle where it is happening is a crucial element."
Teresa Stecker, executive director of IC Compassion, worked with struggling immigrant populations and had been approached many times by university groups and researchers looking to engage with her community for various projects. Liu's project was different because the goal was to honor and uplift participants.
"This group can feel very vulnerable and not very honored if a project isn't mutually beneficial," Stecker said. "When we began this project with Yuchen, it was because this would be an honoring process. It would preserve their dignity, and they would feel there was value in sharing their story."
Being seen and accepted as individuals with unique perspectives and personal ambitions can be a struggle for those coming into the country, especially as refugees.
"We are all human beings," Gerlach said. "Hopefully, one of the impacts of Yuchen's work and others like it is that that needs to be said far fewer times. And that the individuals engaged in this research feel like they are more a part of the community because Yuchen is breaking down visibility barriers."
Participants from both organizations gathered over multiple sessions during the initial phase to share meals and experiences as immigrants and refugees coming to the United States as Spanish and Arabic translators helped Liu document their conversations.
Stecker said that participants were relaxed and open and continued to return to share their stories and be a part of the project, a process that she hopes will continue.
"As an executive director, I am looking at how we can continue some of the principles here and build upon them even within our work by encouraging storytelling," Stecker said. "When you talk about storytelling, it is also peace-promoting. I'm excited and challenged with how this can go beyond these sessions, and we can continue to use that within our organization to promote community and peacebuilding."
Sunday Goshit, the vice president of the ACN, understands the experience of cultural adjustment for participants, having come to the United States as an international student in 2000.
"I have seen the challenges people go through and the many stories they have when they come to the USA generally and Iowa City in particular," Goshit said. "Africans have different communities and nationalities, and we try to network them together. When this project came to us, I thought it was a very, very powerful tool in our efforts to help people come together and express their experiences so they can understand that they are not alone in what has happened or is happening to them. I have seen that through the process of the interviews that we have had already."
By preserving participants' stories in digital form, future generations of children and those coming to the United States will be able to learn from shared experiences and understand what it is like adjusting to a new culture.
One tool used by the project that bolsters this effort is the Intercultural Development Inventory (IDI). This 50-question assessment tool develops intercultural competency while moving participants along a continuum from a lack of understanding to acceptance and adaptation. 
"I have used the IDI a lot and have found that it opens people's eyes in terms of what they know about themselves and others," Goshit said. "It helps people to be able to see diversity more positively and accept people for who they are. If we get to that adaptation stage, there is a shift in perspectives."
Everyone involved in the project hopes it will become an enduring pathway for immigrants and refugees to be heard and validated as community members while acting as a vehicle for change for shifting perspectives across the state toward increased understanding and inclusivity.
"There's great upside here," Gerlach said. "Being in Iowa City, things are changing quite rapidly, and this place values this kind of community-engaged research. This community welcomes, supports, and champions refugees and immigrants, but it needs to go further. There is a charge for the rest of us to help amplify this work. Sunday and Theresa do that every day, and I hope others will recognize this and be aware of it too."
Story by James Dykeman